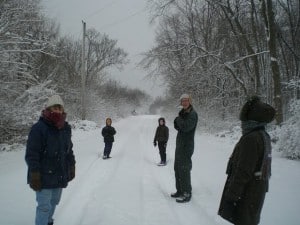 The first Christmas Bird Count (CBC) was proposed in 1900, by noted ornithologist Frank M. Chapman as a way to take a census of birds without hunting them. Since that first year, the CBC has become an annual tradition for birders across the Americas, of all ages, backgrounds and levels of experience.
This year's Pelee and Bass Islands Christmas Bird Count was held on December 15, 2013. Despite the snowy conditions, it was a very successful day. There were 7 "field" participants in total on Pelee Island, including three experienced birders who each led a group. In total, the three groups combined spent 17 hours in the field, walked 9.5 miles, and drove 62 miles. In addition, 10 more participants joined in the fun by watching their bird feeders.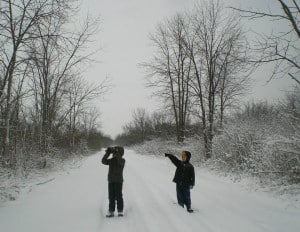 As a result of this hard work, 4,600 birds of 48 species were recorded on Pelee Island. The combined count, including South and Middle Bass Islands (in Ohio) and Pelee Island, was 54,679 birds of 75 species. Highlights were 23 Sandhill Cranes on Pelee Island, and a Northern Saw-whet Owl and Tufted Titmouse on the Bass Islands. While Pelee Island had the greatest species diversity, the Ohio Islands had much higher numbers of waterfowl.
Click here for a more detailed (pdf) list of birds from the Pelee Island and South Bass counts.
Thank you to everyone who participated in this year's Christmas Bird Count, on Pelee or anywhere else. The data gathered during the counts is invaluable in tracking the long-term health of bird populations.