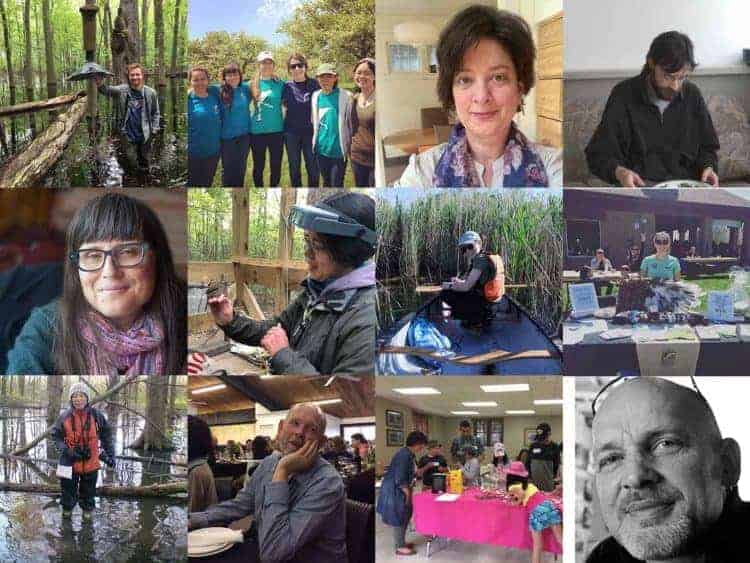 The Pelee Island Bird Observatory is a non-profit charitable organisation devoted to the study and conservation of birds. The observatory conducts intensive migration-monitoring research and breeding bird studies on Pelee Island from April to November. PIBO's field station at Fish Point Provincial Nature Reserve is open to the public in the spring and autumn, with educational programs provided to visiting school groups throughout the month of May.
PIBO's purpose is to collect and disseminate data that will help the Canadian Migration Monitoring Network that is working to understand changes taking place in the populations of migratory birds. While this is our work and our responsibility, we recognize that birds exist in a wide range of cultural and imaginative contexts, as well as in specifically scientific ones. To that end, we are introducing a number of satellite areas, with the hope this site will be of interest both to serious birders and to general enthusiasts alike.
PIBO is a non-profit organization supported by grants, donations, and partnerships. PIBO's small organisational structure and our low overhead expenses allow for almost eighty percent of the funds raised by the observatory to go directly to cover the operational costs of the field research, which includes our educational programs. In this respect, PIBO supporters can be confident that their dollars are being well spent. Donors will receive a tax receipt for their contributions.
The PIBO Team
Suzanne Friemann – Executive Director
Sumiko Onishi – Field Supervisor/Bander in Charge
Jennifer Nantais- Urban Bird Educator
Founder: Graeme Gibson the Younger
The PIBO Board
Matthew Gibson (Co-Chair)
John Gruetzner (Co-Chair)
Margaret Atwood (Honorary Chair)
Wayne Grady
Dona Hayes
Penny Kavanaugh
Merilyn Simonds
Advisors to the Board
Philip Slayton
 Bios
Suzanne Friemann, Executive Director of Pelee Island Bird Observatory
My present role at PIBO involves many different aspects, from day to day administrative tasks, HR, bookkeeping, event planning, staff relations, public relations and communications to program coordination and fundraising. What I most enjoy in my role at PIBO is seeing a real difference in bird conservation from our research and education programs. Having not moved my career from point A to B, I have been fortunate to gain many skills in various fields. However, the thread the ties all my past positions together is my passion for environmental change, positive movements in the social justice field and a vibrant arts community. These are the causes I champion and have accepted positions that have allowed me to contribute. I have an Honours Bachelor degree in Anthropology, a Bachelor of Education in the primary/junior division and a Masters of Arts in Sociology, all from the University of Windsor.
When not at my desk, you can find me getting my hands dirty in our woodland, urban garden, perusing used bookstores to add to my growing book collection or cooking up a storm!
Sachiko Schott
Sachiko L. Schott graduated with a B.Sc. in Zoology from the University of Guelph, and has since worked as a field ornithologist in Oregon, North Carolina, West Virginia, British Columbia, and Ontario. She began birding in 2007, a hobby that not only influenced her current career path but also reawakened an interest in painting, drawing, and embroidery. Her other hobbies include taxidermy, and some of her work is on display in PIBO's exhibit 'Birds and Species at Risk' in the Pelee Island Heritage Center.
Sumiko Onishi
I visited PIBO's banding station as a volunteer in the summer of 2006, which was the hottest and buggiest season I ever have experienced in Canada since I have been here!  In 2011, I started working for PIBO and spent more than 5000 hours in the field. After observing bird migration for thirteen years on the island, my passion to see the phenomenal bird activity is still strong. Currently I am an island resident and have much appreciation for this small community. I have lots of support from my friends and am happy to help other people as well. It has been a pleasure to meet many young people, students, and elders, and to spend time chatting about birds and nature at our small bird banding station in the forest.  Along with my favourite hobby, birdwatching, I also enjoy drawing birds, butterflies and the varied landscape that I love to see on the island.
Margaret Atwood
Co-Founder of Pelee Island Bird Observatory. Margaret is one of Canada's best known and most prolific writers. She has written more than 40 books in nearly all literary forms including short stories, nonfiction, children's books and stage. Her work encompasses a variety of themes including gender and identity, religion and myth, the power of language, climate change and "power politics". Her most recent book, The Testaments, has broken Canadian sales records and was named the co-winner of the 2019 Booker Prize.
Matthew Gibson
Matthew is the President and CEO as well as a Co-Founder of Syngrafii Inc. He has extensive experience in high-technology solutions and is an inventor of record on 9 granted and 27 pending patents. Matthew has worked in corporate development for over twenty years and has expertise in diverse consumer and industrial markets. Specializing in launching, monetizing and commercializing intellectual property, of late, in remote wet ink eSignatures on mobile technology platforms.
John Gruetzner
John Gruetzner is the principal of Intercedent, a Canadian business and investment advisory firm founded in 1988 and focused on Asia. Before joining Intercendent in 1991, John served as the head of the Canada China Business Council in Beijing. John has also worked for the National Broadcasting Corporation, De Laurentis Entertainment, and Filmline. He has a diverse range of skills related to conducting business in Asia including market entry and sales development, investment advisory, capital raising and corporate government engagement strategies, and has lived and worked in China for over 30 years. John is a Director on a number of public and private sector boards.
Donna Hayes
Raised in Montreal, Donna Hayes graduated in 1978 with an honours degree in English literature and communications from McGill University. She is the retired Publisher and Chief Executive Officer of Harlequin Books where she spent 28 years, the last 13 as CEO. She has also served on the board of directors of the American Association of Publishers, the Toronto Public Library Foundation and the board of directors of the TD Financial Group. Donna joined our board of directors in 2014. She also serves as Co-Chair of the Toronto Wildlife Centre.
Wayne Grady
Born in Windsor, Ontario, Wayne is a Canadian writer, editor, and translator. He is the author of 14 books, the translator of more than a dozen novels from the French, and the editor of many literary anthologies of fiction and nonfiction. He currently teaches creative writing in the MFA program at the University of British Columbia. He is the recipient of a Governor General's Award for French to English translation, the John Glassco Translation Prize and the National Outdoor Book Award. His novel Emancipation Day was named nominee for the 2013 Scotiabank Giller Prize and named winner of the 2013 Amazon.ca First Novel Award.
Penny Kavanaugh
Born in Toronto and raised in Kingston, Ontario. Penny moved back to Toronto in 1972 where she worked for several businesses, including CTV before pursuing a career as a bookkeeper. She has been a bookkeeper for over 40 years. Penny joined the board of directors in 2014, and she is responsible for managing and oversight of the financial reports and statements for PIBO, as well as presenting the financial statements and budgets at the Board meetings.
Our Mandate
Long-term migration monitoring research on Pelee Island as a member of the Canadian Migration Monitoring Network (CMMN).
Long-term studies of Pelee's significant breeding bird communities.
To serve as an educational centre for the public, school organisations and the community, and to promote volunteer participation in local conservation projects.
To highlight the importance of Pelee Island's unique natural heritage.
Our Location
Pelee Island is located in the Western Basin of Lake Erie.
Situated in the western third of Lake Erie – Pelee Island is the most southerly-inhabited landmass in Canada and the largest island in the Pelee Island archipelago (4000 ha). Pelee lies between Leamington, Ontario on the north shore of Lake Erie, and Sandusky, Ohio to the south. The island is located just ten kilometres southwest of the tip of Point Pelee National Park. Approximately three hundred year-round residents live on Pelee and 1200 seasonal residents and visitors call the island home during the summer months.
Pelee Island is designated as an Important Bird Area (IBA) by the Canadian partners of BirdLife International – the Canadian Nature Federation and Bird Studies Canada. IBA's are described as "truly outstanding sites of significance nationally or internationally, and sites that are exceptionally important for birds".
Visit our links section to learn more about Pelee Island's fascinating human and natural history, as well as to find out about visiting the island, including "how to get here", island accommodations, things to do on your visit, and other island news.
Links to Our Friends & Partners
Tourism Windsor Essex Pelee Island
Canadian Migration Monitoring Network
Ontario Bird Banding Association
Essex Region Conservation Authority
Essex County Field Naturalists' Club
Avibase – The World Bird Database
Searchable Ornithological Research Archive (SORA)
Smithsonian Migratory Bird Centre
Jack Miner Migratory Bird Foundation
The Salal Foundation  
Our Sponsors
A sincere thank you as well to our many individual donors, especially those who attended the Windsor and Toronto dinners, friends, supporters, partners, and PIBO's hard-working volunteers!
Aaron Weir
Anna Porter
Balzac's Coffee Ltd
Bank of Montreal
Bird Studies Canada
Catherine Prowse
Chandisherry Foundation
Cineplex Entertainment Inc.
Colleen Peddie
Conrad Black
Donna Hayes
Donner Canadian Foundation
Eleanor Cook
Graeme Gibson, Elder
Halight Ltd
Jacob Yerex
Janet Graybiel
John Fairley
John Gruetzner
Jonathan Rodzik
Keri Levinsky
Labatt Brewing Co Ltd.
Loblaws
Lush Cosmetics
Lynn Baker
Margaret Atwood
Martin Kuhn
Matthew Gibson
Michael de Pencier
Mr. and Mrs. Delaney
Nancy Lockhart
Ontario Trillium Foundation
Owen Deutsch Trust
Palimpset Press
Pat Marshall
Patricia Toal
Patrick Allen Martin
Paul Maranger
Penguin Random House
Penny Kavanaugh
Peter and Denise Hrastovec
Phamous Characters Inc.
Philip Dyke
Philip Slayton
Phyllis McCrae
R.O. White Consultants Inc.
Renee Trombley
Richard Woodruff
Rod Bell
Rosamond Ivey
Sandy Bourque
Scotia Bank
Sheila Gregory
Shibley Righton
Sumiko Onishi
TD Friends of the Environment Foundation
The Anthropocene Project Ltd
University of Windsor
Vizetto
Wayne Grady
Weir Foulds LLP