Our appreciation  to Paul Jones, Mike V.A. Burrell, Richard K. Cooper, Sumiko Onishi and all the bird photographers who shared their work in these pages.
WELCOME TO THE PELEE ISLAND BIRD OBSERVATORY
The Pelee Island Bird Observatory (PIBO) is uniquely situated on the most southerly island in Canada, nestled in the western arc of Lake Erie, between the mainlands of Ohio and Ontario, but most importantly, in the path of two major migratory flyways for songbirds that winter in Central and South America and breed in Ontario. Among PIBO's many research and outreach projects, PIBO conducts annual migration counts and bird banding. We also monitor the island's significant breeding bird communities. Our online newsletter, The Auspice, provides migration summaries, records unusual bird sightings, bird population declines, and other birding news. And our downloadable bird checklist highlights the impressive range of birds that visit Pelee Island, including several Species at Risk and those that have limited breeding ranges in Ontario. Find out more about Who We Are and What We Do—and what YOU can do to help protect birds and bird habitat in southeastern Ontario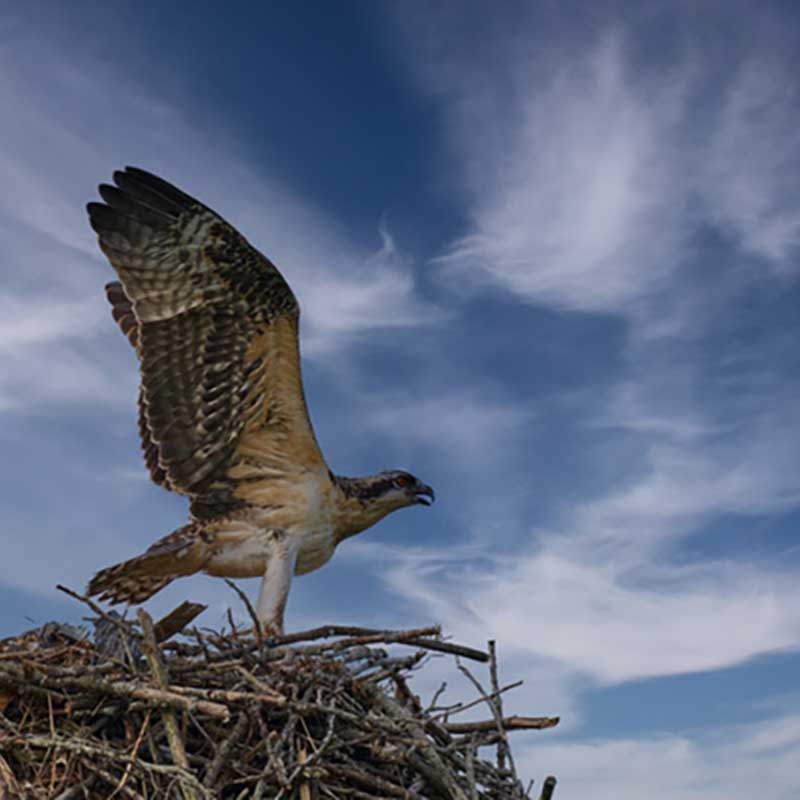 Bid—for the birds! Support the critical work of the Pelee Island Bird Observatory as it monitors birds where two major migratory routes converge— a flyway for millions!
Unique, rare, and exceptional offerings. Get a sneak preview of the limited editions, collectibles, immersive experiences, exotic tours, tantalizing travels, and much, much more.
Pre-register now. Auction link goes live October 1, 10:00 am.
White-faced ibis and Willow ptarmigan top the list of new species seen on Pelee Island this spring. Please see our "Unusual sightings" for the nine other species never before seen on the island that visited us in May and June.
Photo: Common raven with catch of the day. Photo by Richard Cooper.
Did You Know?
It has been thought that migrating birds burn mostly fat during their long-distance flights, but a recent study at the Advanced Facility for Avian Research (AFAR) at Western University shows a different scenario.
A team led by Cory Elowe, of the University of Massachusetts Amherst, measured the fat content and muscle mass of 20 Blackpoll warblers and 44 Yellow-rumped warblers netted at the Long Island Bird Observatory, then placed the birds in AFAR's wind tunnel, where they flew for up to 28 hours without stopping to rest. When the birds finally rested, the researchers remeasured them. "Every bird still had plenty of fat left," says Elowe, "but their muscles were emaciated. Protein, not fat, seems to be the limiting factor in determining how far birds can fly."
The researchers are now trying to determine how birds can rebuild muscle mass in just a few hours in order to resume their migratory flights.
Looking for PIBO's Online Auction?
Our Spring online auction has migrated to the Fall. Watch here for further details as we prepare our annual offerings of artwork, adventure travels, curiosities and surprises to go live on October 1 – 18, 2023.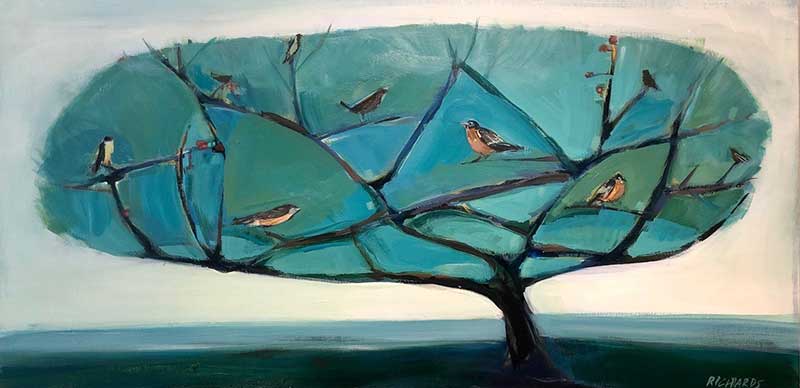 You Voted, and Now It's Official
The Official Bird of Windsor is the Tufted Titmouse.
At a public unveiling on April 12, the Tufted Titmouse was crowned Windsor's Official Bird, winning out over the Northern Cardinal, the Common nighthawk, and the Peregrine falcon.
The Tufted titmouse is a small North American songbird in the tit and chickadee family. This perky little bird is a year-round resident in a range that extends from Texas to Florida and north through Central Ontario.
To read the short speech given by PIBO executive director Suzanne Friemann at the announcement ceremony, and for links to local news coverage of the event, please go to our NEWS page.
Work With Us!
Every year PIBO hires an Assistant Field Biologist and welcomes Volunteers to work with our field staff on Pelee Island.
We run a variety of important projects on the island, including bird banding (this year we banded nearly 2,800 birds between May and October), breeding bird studies, migration monitoring, and Purple martin research.
If you are interested in being a volunteer with PIBO, find out more:
Advance Order Now! "Wood Thrush: Harbinger of Change"
PIBO joins with Woodbridge Farm Press in a new collaboration to produce BIrders on Birds, a series of essays on the birds of Pelee Island, written by PIBO's Celebrity Birder at Springsong. A portion of the proceeds from sales of Birders on Birds will go to support PIBO programs.
"Wood Thrush: Harbinger of Change," written by Ian Davidson, BIrdLife International Director for the Americas, is the first in the Birders on Birds Series. Ian shares his sightings of Wood thrush along the
bird's migration route from Canada's Far North to Central America, where both the thrush and Ian find themselves face-to-face in NIcaragua where Ian is helping develop an ecological preserve in the midst of the Contra-Sandanista struggle.
Also hot off the press is "Midway Through the Journey: Hiking with Dante" by this year's Springsong Guest Author, novelist and humorist Randy Boyagoda, whose essay is part of the Woodbridge Farm Press series Writers at Rest. In "Midway Through the Journey," Randy explores the intersection of hiking with his family and a life-long interest interest in Dante's Divine Comedy.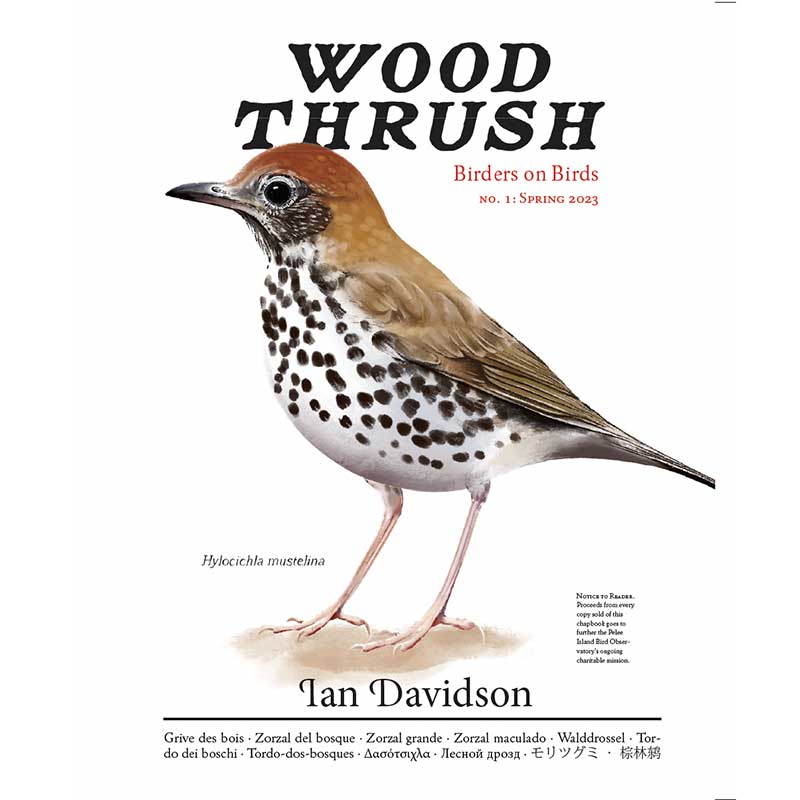 PIBO Donates Binoculars in Mexico
This spring, PIBO's Graeme Gibson Prismaticos Project nine pairs of donated binoculars to environmental workers and forest rangers in the state of Guanajuato, Mexico.
"We desperately need this equipment," says Maru Mendiola, one of the recipients and a worker at the Sierra Gorda Biosphere Reserve. "It has been extremely difficult to undertake our monitoring and educational activities without them. Now, we can train future generations to restore and protect this unique habitat."
Prismaticos Project coordinator Rodrigo Lopez, right, presents binoculars to a volunteer guardabosque at the Sierra de los Agustinos Reserve in the state of Guanajuato, Mexico.
Photo credit: Merilyn Simonds