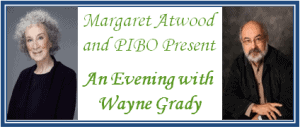 For the third year in a row, Margaret Atwood returns for the PIBO Windsor fundraiser. This year she brings as her guest Windsor-born author Wayne Grady, whose novel Emancipation Day was longlisted for the 2013 Scotiabank Giller Prize.  The novel, much of it set in Windsor, deals with the marriage, during the Second World War, of a black man passing for white and a white woman who knows nothing of her husband's past.
For more information about the fundraiser, or about Wayne Grady, including reviews of Emancipation Day, please click here to download the poster (pdf). You can also visit Wayne Grady's website: http://www.waynegrady.ca
We look forward to this year's fundraiser, and hope that you will join us! Proceeds from the fundraiser will help PIBO conduct our migration monitoring, breeding bird, and Species at Risk research programs on Pelee Island, as well as our award-winning environmental education programs.
This year's event will be held Wednesday, May 7, 2014, at Beach Grove Golf and Country Club in Tecumseh, ON. Contact Paul Vasey at to order tickets.