The Pelee Island Bird Observatory's (PIBO) migration monitoring/bird banding field station is open to the public every day during the spring and fall migration season. Visitors are always welcome to stop by and PIBO staff and volunteers are usually available to chat about the birds of Pelee Island, bird migration, and PIBO's research. Here is some information to help with your visit.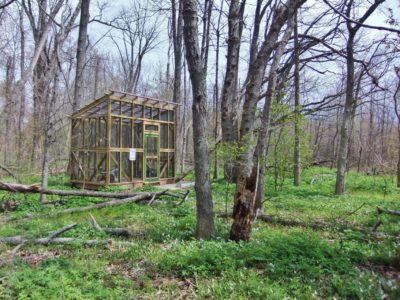 Dates and Hours of Operation
Seven days a week from:
April 15th – May 31st in the spring
August 15th – November 1st in the fall
Visiting hours: 7 a.m. – 11 a.m. the operation time will often be flexible early and late in the season due to other commitments.
Note: The station is closed on rainy days and sometimes due to the threat of rain.
 Please keep dogs on a leash.
The field station is located at Fish Point Provincial Nature Reserve at the south end of the island.
From the nature reserve parking lot, walk north along McCormick Road (following the west shore on your left) for approximately 200 metres.
On your right, you will see a trail leading off into the woods and a small metal sign marked with the number 75.
Follow the trail into the woods (stay to your left) for about five minutes and you'll find the bird banding lab.
The bird banding station can be a challenge to get to, but the rewards are usually worth it! PIBO's migration program is research-oriented, and the station was established with this in mind, rather than ease of access. But everyone's welcome!
The area can flood extensively in the spring so it's best to bring rubber boots. It's okay to try to walk off the trail in drier areas (in regular shoes). The mud can be extremely slippery.
Mosquitoes can be excessive from late-May to mid-September.
Take care – there is lots of poison ivy beside the trail.
There are no washrooms on site. The closest public washroom is at the ferry dock ( 3.8 km away).
Interpretive and Education Events
We provide hour-long environmental education programs for school groups, naturalist clubs, and anyone else interested in visiting the Bird Observatory. To book a program, or to inquire further, please
contact PIBO
.