The following are the two stories that won first place in our inaugural Writing Contest.
The Real Santa by Richard Galloway
Like a kid on Christmas Eve who is unable to sleep knowing the day he has waited all year for is only a few hours away, is exactly how I feel every April 9th. Because that is the night before my "Santa," the first Purple martin scout of the season, arrives. Sure, some years the weather affects his arrival and he is a few days late, but on average, the 10th of April is the magical morning.
I may not leave out milk, sugar cookies and a note for my Papa Noel. I do, however, spend days making repairs, tightening perches and cleaning out the nine aluminum houses that contain just under 200 lake-front rooms for the incoming guests that follow this scout a few weeks later.
The big man in red prefers to silently go from home to home, but the sleek male in purple swoops and dives, proudly announcing his return from Brazil with boisterous, throaty and bubbly calls. Like an avian travel agent, he goes from apartment to apartment inspecting each one for his extended family.
The next four months resemble a holiday at Grandma's: everyone chattering, babies crying, endless amounts of food (insects instead of turkey) and teenagers just eager to get out of there.
Then suddenly they all leave for the season, and it is just quiet…too quiet.
Soon children will be listening for sleigh bells on their snowy rooftops, but for me, it is only 103 more sleeps until "the real" Santa arrives.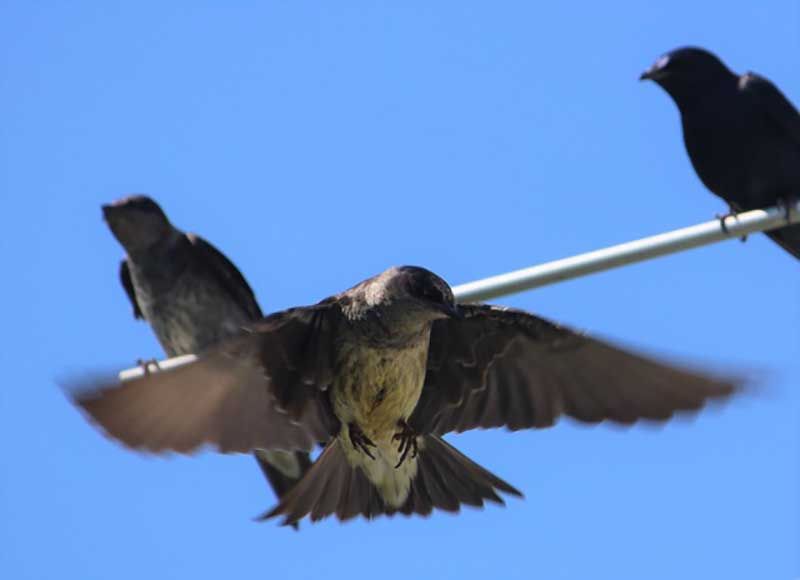 Birdwatching by Wanya Haider
Birdwatching is one of my favourite hobbies. I developed this passion when we got a bird feeder for our backyard. It was right in front of the deck, so I could watch birds up close for hours. They would also build their nests on nearby trees, and I could see the eggs hatch, the baby birds grow and then fly off. The feeder attracted all kinds of birds, including Red-winged blackbirds, Mourning doves, Cardinals, Blue Jays, American robins, and more. Since then, I look forward to watching them and listening to their songs, especially during the morning.
Some of my craziest bird experiences include a bunch of wild turkeys jumping over the gate and hanging out in our backyard. There were twelve or thirteen of them, and they stayed the entire day. When I woke up the next morning, the turkeys were gone.
Another time, when I visited Goat Island, someone gave me a handful of seeds and I enjoyed feeding the birds out of my hand. There I saw woodpeckers and hummingbirds. It was nice to see them up close and how fearless they were, especially when it came to food.
Birdwatching has taught me a lot about the importance of hard work and never giving up. No matter rain or shine, the parents gather twigs and sticks to build their nest, and once the eggs hatched, they would relentlessly fetch food for their young ones. Overall, birdwatching is one of my favourite hobbies.