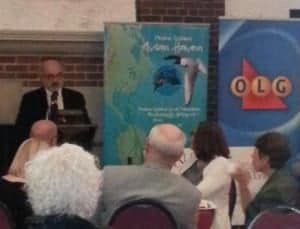 PIBO's third annual Windsor Fundraiser Dinner, "Margaret Atwood and the Pelee Island Bird Observatory Present: An Evening with Wayne Grady", was held on May 7, 2014, at Beach Grove Golf and Country Club. It was a fantastic evening, with great food and wine, and of course great company. It was particularly nice to catch up with attendees from our previous Windsor fundraisers, and as always, the generosity of those in attendance this year is much appreciated. Money raised from the event will fund our research monitoring migratory songbirds, and breeding birds on Pelee Island, as well as our award-winning environmental education programs.
We would like to thank our honoured guests, Margaret Atwood and Wayne Grady, who read from his highly acclaimed novel, Emancipation Day. Both Margaret and Wayne were very gracious to sign copies of their books after the dinner and live auction.
PIBO would also like to thank our event sponsors: An Anonymous Bird Lover; Dr. Alan Wildeman, President and Vice-Chancellor of the University of Windsor; TD Friends of the Environment Foundation; Ontario Lottery and Gaming Corporation; Sean White, Associate Director, Wealth Management at ScotiaMcLeod; Dr. John Strasser, President of St. Clair College; Sanson Estate Winery; Balzac's Coffee Roasters; and Phog Lounge. We also thank Martin Deck and staff from the University of Windsor Book Store for setting up and running the book sale display, and the management and staff at Beach Grove for all of their assistance.