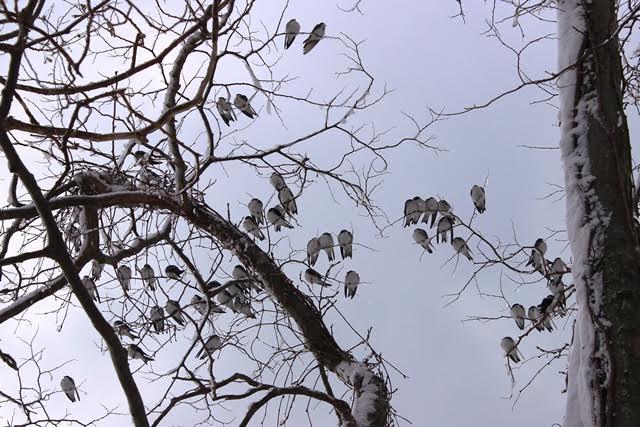 Tree swallows (Sumiko Onishi)
PIBO's 14th migration research season kicked off at Fish Point Provincial Nature Reserve on April 1st under cloudy skies, with strong winds from the southwest, and a mild 9° C. April's dawn chorus – robins, redwings, flickers, golden-crowned kinglets, and others – confirmed spring was here after a long, mostly silent, winter on Pelee Island. A nice mix of thirty-four species was recorded on the 90-minute census including lots of waterbirds – pied-billed grebes, coots, shovelers, blue-winged teals, ring-necked ducks, and hooded mergansers, among others – small groups of golden-crowned kinglets and creepers sheltered from the wind on the east shore, and a couple of white-breasted nuthatches. A somewhat balmy start was quickly followed by a cold snap on the 3rd when staff were greeted by minus-three degree temperatures along with snow and strong southwest winds. Lots of waterfowl remained in the area but songbirds tapered off apart from small numbers of phoebes, yellow-rumped warblers, and winter wrens. The 4th was active, with 41 species noted on the morning walk, including 25 northern shovelers, 10 phoebes, and 250 tree swallows.
The wind eased up on April 5th but it remained below freezing. A group of 380 Bonaparte's gulls was noted on the census that day along with the first 'standard' records for yellow-bellied sapsucker and hermit thrush. The first common loon of the season fly over the tip on April 6th. Hundreds of redwings and smaller groups of grackles and cowbirds were noted in the count area, including a number of males back on their summer territories. More rain and a mild 6° C on the 7th produced a couple of singing swamp sparrows and a ruddy duck at Fox Pond. The resident Cooper's hawk was observed the same day along with 46 Buffleheads and eight other waterfowl species. An eastern towhee and some rusty blackbirds on April 8th were both new for 2016, and 90 tree swallows on the morning count were part of a group of thousands recorded on the island that day. A great egret and 3 bald eagles were highlights on the 10th. PIBO's standardized bird banding program will get underway on April 15th. Happy Spring!
Species recorded on Pelee Island from April 1st – 10th, 2016
| | |
| --- | --- |
| Common Loon | Downy Woodpecker |
| Pied-billed Grebe | Yellow-bellied Sapsucker |
| Horned Grebe | Yellow-shafted Flicker |
| Double-crested Cormorant | Eastern Phoebe |
| Great Blue Heron | Blue Jay |
| Great Egret | American Crow |
| Turkey Vulture | Horned Lark |
| Canada Goose | Tree Swallow |
| Wood Duck | Black-capped Chickadee |
| Gadwall | White-breasted Nuthatch |
| American Wigeon | Brown Creeper |
| Mallard | Carolina Wren |
| Blue-winged Teal | Winter Wren |
| Northern Shoveler | Golden-crowned Kinglet |
| Green-winged Teal | Eastern Bluebird |
| Redhead | American Robin |
| Ring-necked Duck | Hermit Thrush |
| Bufflehead | European Starling |
| Common Goldeneye | Cedar Waxwing |
| Hooded Merganser | Yellow-rumped Warbler |
| Ruddy Duck | Northern Cardinal |
| Red-breasted Merganser | Eastern Towhee |
| Bald Eagle | American Tree Sparrow |
| Cooper's Hawk | Field Sparrow |
| Red-tailed Hawk | White-throated Sparrow |
| American Kestrel | Song Sparrow |
| American Coot | Swamp Sparrow |
| Wild Turkey | Dark-eyed Junco |
| Killdeer | Eastern Meadowlark |
| American Woodcock | Brown-headed Cowbird |
| Bonaparte's Gull | Red-winged Blackbird |
| Ring-billed Gull | Rusty Blackbird |
| Herring Gull | Common Grackle |
| Great Black-backed Gull | House Finch |
| Mourning Dove | American Goldfinch |
| Belted Kingfisher | House Sparrow |
| Red-bellied Woodpecker | 73 species |