Inside PIBO's first ever Nature Nearby Program – Summer 2019
---
We hope our learning journey with four families will inspire you and your family to step outside and experience the wonders of the inter-relationships of nature. This summer we facilitated a pilot nature-is-where you are education program in Windsor for children aged 4 to 13, along with, their parents.

It all started with some key questions:

– How could PIBO broaden and deepen nature education programs to develop future nature advocates and leaders?
– How to develop a network of sustainable nature programming to include volunteers, parents, naturalists, PIBO staff, First Nations educators, neighbourhood partners, artists and poets.
– Where can PIBO have the most impact to encourage the protection and creation of bird habitat and biodiversity?

Our Vision

To encourage local families to get to know our ecosystem and foster a love of nature strong enough to create child and patent leaders who will act to safeguard our natural world now and in the future.

How?

By providing deep multi sensory, creative and fun reflective opportunities to experience nature in local neighborhoods where parents could learn with their children to:

– develop and hone nature observation skills 
– understand bird language and behaviors 
– make meaningful discoveries about the inter-relationships between land, water, trees, birds, insects and people
– record insights in Nature Journals during activities and at home
The program ran for one month and had a home base at the Coach House and Willistead Park and feature one morning, one evening and home study activities.

The elements of our program were designed to work together and foster learning discoveries and discussions between parents and children.

Morning Nature Experience Days: An opportunity to practice nature observation through sit spots, journaling and sensory activities about inter-relationships in nature.
Nature Together Night Events: The Whole family was invited to attend outdoor gatherings with special Nature Luminaries -guides with special knowledge to share who taught about First Nation ideas, Foraging, Butterflies,  Birds, Art and Poetry.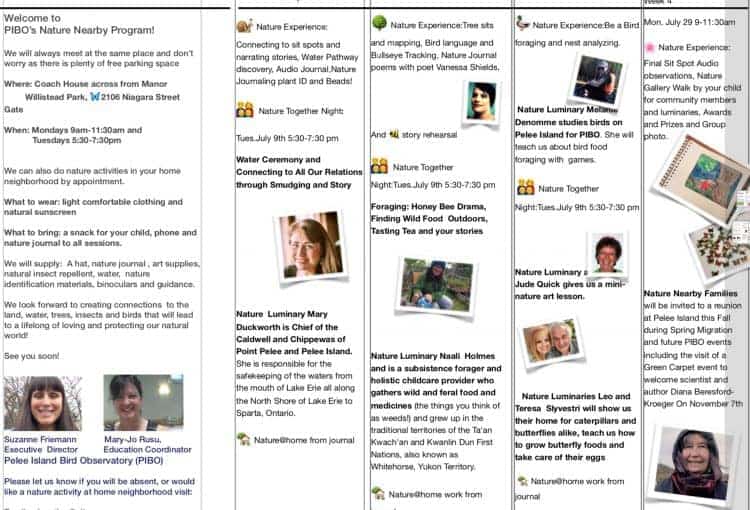 ---
Meet our Nature Luminaries: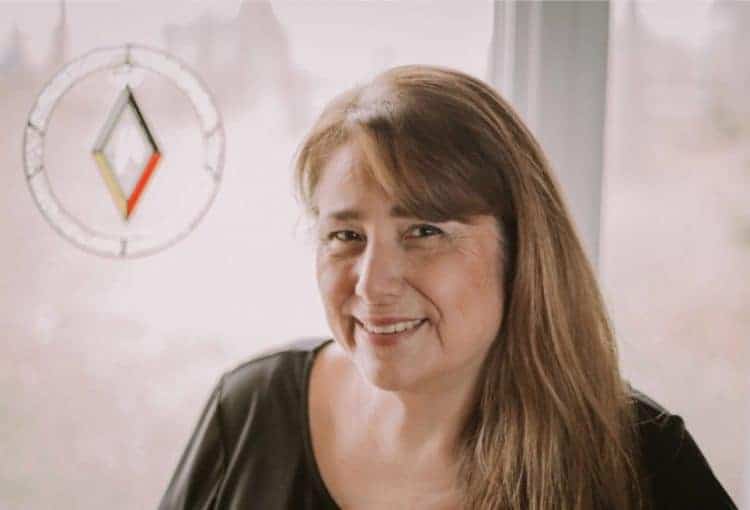 Ogimma-Kwe Mary Duckworth, Anishinaabe Name: MnidooKiiNya EyoJik
Ogimma-Keep Duckworth of the MukwaDodem was elected as Ogimmain February 2019.  Previous to her election, she served as a social worker with the Chatham Kent Community Health Centre located on Bkejwanong Territory. Previous to ChathamKent Community Health Centre, Ogimma-Kwe Duckworth served over 20 years in the Criminal Justice System; 17 of which as a youth probation officer on BkejwanongTerritory. With a Bachelor of Social Work degree from Ryerson University and a Master of Social Work form Wilfrid Laurier University, she combined her formal education of Indigenous wholistic social work and Anishinaabe cultural values, beliefs, ceremonies and medicines in to her practice. Ogimma–Kwe Duckworth is personally impacted by cultural genocide (the Residential School system and the Millennium Scoop).  She champions the fight, for her community and Nation, against oppression. She has committed herself to a life-long learning journey of research into the discourses of colonial power. She continues to lead her community in the fight for equity and equality. Guided by the Anishnaabe ways of knowing and through hard work, dedication, honesty and integrity, Ogimma-Kwe Duckworth priorities for her community are ensure a future for the next generation by expanding the community's land-base, protecting the water and traditional lands and fighting for equitable child well-being and Indigenous women's rights. 
---
An interview with Chief Mary Duckworth:
How can we respond to the environmental challenges of our times?
When something bad happens. There is often a maladaptive response. We can't stop existing. We need to be here for our family. And we are all family to one another. There has to bea shift in the way we see ourselves in time and space. The western worldview sees events in a linear fashion, with one event happening after another. We see things as more of a cycle that is being repeated again and again and with the understanding that our own lives are part of this cycle. The cycle of nature and the changing elements is something that we are all connected to. We can, at any point, learn to centre ourselves, see ourselves as allies of one another and make sure we are making good choices for both our lives, and nature. 
How can we connect our children to having a living relationship with the land we live on?
There has to be a change in the ways we use language because language shapes how we experience our world. For example, in English when we use the word "tree" a picture comes to mind of an object. We have a different way of talking about a "tree", in our mi da, "a tree" is actually a relative, a relationship. Much like we describe family members as "mother" or "brother" or sister. Tree to us, means a living relative, a relationship exists between us. It means that when we walk on the land we are in one of many relationships all the time. That we are never alone. Why? Because we are surrounded by our relatives.
Do you have the idea of getting grounded?
To be "grounded" simply means to be connected. It means I have a place and you have a place here, a chair. First, I am connected to myself.
How do you get connected?
Gratitude. Every single day. It all starts with being thankful first. Smile and become quiet and think about all you have and all you are. Saying aloud, "I am grateful for waking up, for the blue sky, for having a relationship with the water. Once I have established who I am and how I am. Only then can I really connect with anyone else. We see nature as a living being. So, just like a mother or a father or a sister or a brother, we have a responsibility to be caring, to serve and help it. We would not wish to destroy those close to us. We would save them from harm and respect them. But it all begins with ourselves first and extends outwards.
What is your vision for your role as Chief?
It is to see everyone as a future ally and to ensure that all of us have a good understanding of the ecosystem. I am responsible for the safety and care of our living waters from the mouth of the Detroit River along the shore of Lake Erie up to Sparta. We work to safeguard it from pollution. To poison or pollute the water that we drink should be viewed as a criminal activity – just consider how many human and other species are impacted by polluted water. We can accomplish great things together through prayer, hope, belief and action. 
---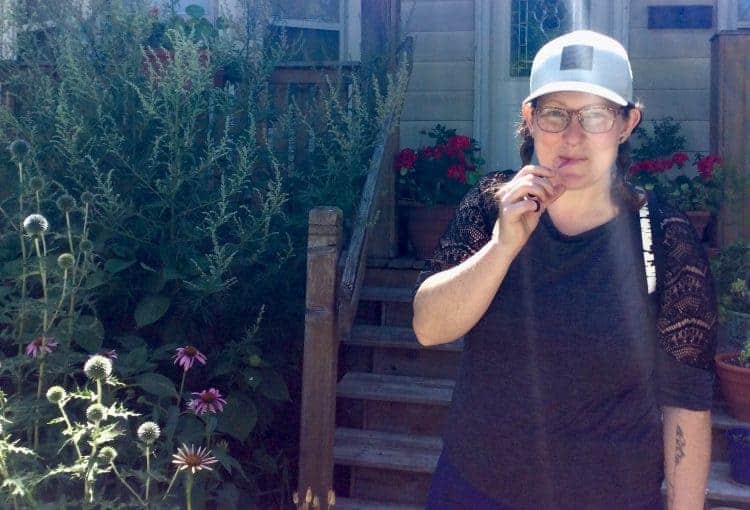 Forager and Holistic Child Care Provider: Naali Holmes 
Naali Holmes is a queer and gender non-conforming subsistence forager and holistic childcare provider. They gather wild and feral food and medicines (the things you think of as weeds!) with people of all ages and abilities, in both wilderness and urban environments. 
Naali is passionate about encouraging nature-connection through simple and accessible practices that bring nourishment and health into every day life. They have been mentored by renowned wild foods chef, Frank Giglio and is currently informed by the work of So and Pinar Sinopoulos-Lloyd of "Queer Nature." In Naali's experience, when individuals have a daily relationship with the natural world and rely on its provision, they tend to care for it in cycles of reciprocity.  
Naali grew up in the traditional territories of the Ta'an Kwach'an and Kwanlin Dun First Nations, also known as Whitehorse, Yukon. They cultivated a deep relationship with the land through gathering wild foods and medicines, spending time in the wilderness, and commuting on foot, bicycle and snowshoe. As a recent transplant to Windsor, that relationship has informed the way they move through the urban landscape ~ seeing the land not just as corridors of green space between structures, but as the larger context within which the city exists. 
Naali has learned to adapt their knowledge and skills to learn from and grow with the diverse bio-regions they find themselves in. The abundance of cultivated foods and medicines that have grown into the alleyways and corridors within Windsor came as a surprise. They have gathered 78 different species from the neighbourhood they live in and along their cycle commuting routes, since they arrived in Dec 2016 (including tapping a sugar maple for the first time, this year!).
They are encouraged and inspired by opportunities to share the knowledge they have with others, as they continue to cultivate a relationship with this land and the plants who grow around them.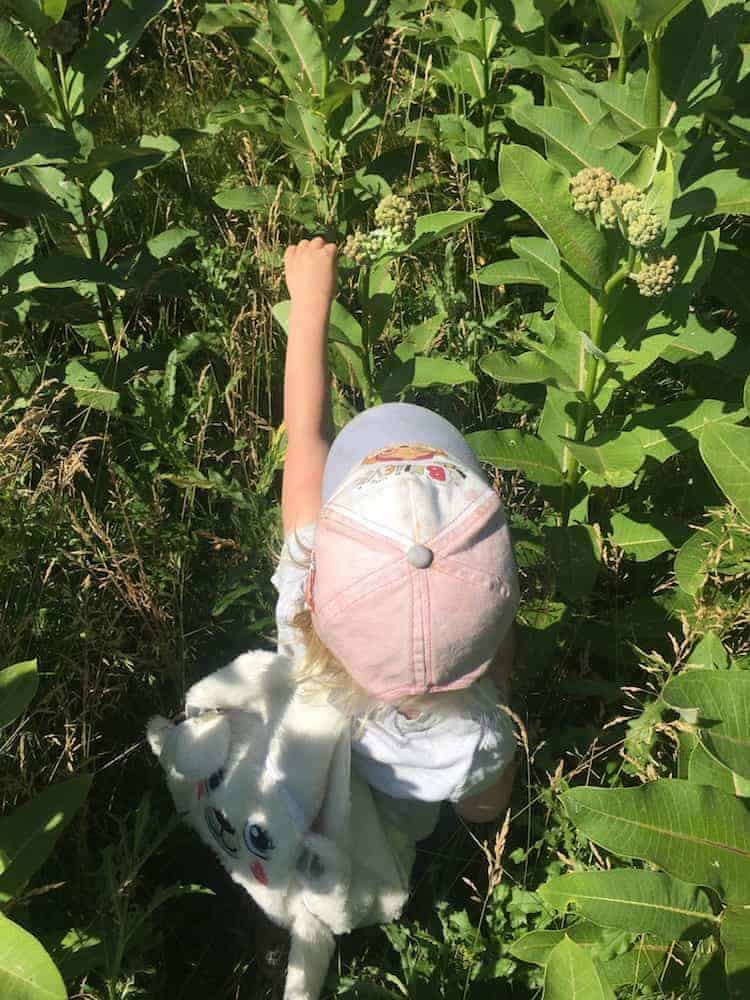 ---
An Interview with Naali Holmes:
Do you remember your first foraging experience? 
As a teen, I had friends who were born and raised in the Yukon, who would go out berry picking deep in the mountains for a week, each autumn. The first time I joined them, we camped alongside a glacier lake, woke each morning to fan out through the alpine to search out blueberries, moss berries and low bush cranberries. We would sit for hours, talking to keep an audible presence for any bears who may also be foraging berries for their winter hibernation. I was the keeper of the bear spray – a task I took seriously and one, which brought me a great deal of comfort. The first night, I opted to sleep alone in the van on the highway, away from the tent camp, as I felt we were ill advised to sleep with such a thin barrier, amid a bear's autumn feast. I lay awake most of the night in my sleeping bag, in the driver's seat, keys at the ready, hand over the horn, peering into the darkness. I returned each year, often with newbie foragers in tow. Last year I gathered my family, young nieces included, and brought them to the place we harvested that first year, to share what has come to be a ritual that feels like home. 
What was it like for you to experience a completely different terrain and plant habitat in Windsor?
When I first arrived in the traditional territory of the Attawandaron, Anishnaabeg, and Haudenosauonee peoples, also known as Windsor, it was mid-winter, and I was unprepared for how vulnerable and isolated I felt. I had lived the majority of my life in close proximity to wilderness and was well acquainted with the foods and medicines I relied on for nourishment, first aid and a sense of belonging and self-sufficiency. It was mid-winter and away from the comforts of loved ones, familiar landscapes and access to resources, I felt alien. I felt as though the skills and knowledge I had gathered and in which I found my greatest sense of identity and belonging, were of no use to me here. I was a cycle and walking commuter by financial necessity and had to travel 20km each way for work. One day as I was walking home one of my familiar plant allies caught my eye – plantain, looking closer, I found tiny burdock leaves bursting out of the soil. As the weather warmed, I came across Spruce tips, Yarrow, Clover, and others, and began to learn about the other plants I had never met before. My sense of well being and connection with this place began to grow as I moved through the city gathering plant allies to feed myself and my family. Amid financial instability and other major life stressors, there was security in knowing I could gather deeply nourishing foods, and the medicines I needed to various ailments, for free, close to home. 
How has your life been shaped by Foraging or how has Foraging shaped your life?
I began foraging because my health was deteriorating as I acquired one seemingly unexplained issue after another and was not finding answers through western medicine. Living in the north, I was familiar with the concept of food as medicine and I knew that the traditional peoples of the north used plants for healing. Therefore, I began a deep period of study and experimentation. I quickly grew to understand that the foods most potent in medicinal and nutritional compounds were growing all around me. I learned how to identify and prepare them, one by one, and began incorporating them into my everyday life. My health concerns disappeared and I have continued learning, experimenting and growing in my understanding of how it is not only the physical components of wild foods, but also a return to relationship with the natural world through exposure to the elements, natural movement through varied terrain, and the mindful pace of observing, tending, gathering and processing wild foods, that contributes to my well-being and holistic health. 
If you would like to tell people one thing about foraging what would, it be?
I would like to emphasize that the only way to remain accountable in our relationship with these allies is through taking the time to learn how to harvest plants for the health of the plant, future abundance and with awareness of the other species who rely on it for food.
---
Partners:
We wish to extend a special thanks to:
Biblioasis for assistance with application drop offs and gifts to our families
Anchor Cafe for gifts to our families 
Four Winds Nature Institute for sharing wisdom and inspirational lesson plans
BC Nature Kids for providing inspiration and practical advice on best practices for programming for families.
Alex Wu, Coordinator International Education, St. Clair College for assistance with promoting to newcomers to Canada from China.
---
Inspiring Resources Used to develop PIBO's Nature Nearby Program:
Biodiversity Conservation: A Call for Action for Canadian Decision-Makers, Women for Nature of Nature Canada:Ann Dale; Leslie King; Valerie Behan-Pelletier; Dawn Bazely; Meg Beckel; Dawn Carr; Holly Clermont; Jaime Clifton-Ross; Michelle Corsi; Susan Eaton; Eleanor Fast; Susan Gosling; Jodi Joy; Brenda Kenny; Elizabeth Kilvert; Patricia Koval; Christine Leduc; Nina-Marie Lister; Anne Murray; Sarah Otto; Laren Stadelman; Susan Tanner; and Sharolyn Mathieu Vettese. September 2018.
https://www.changingtheconversation.ca/sites/all/files/eDialogues/Biodiversity_Action_Agenda_Final.pdf
Connecting With Nature To Care For Ourselves and the Earth, #NatureForAll and Children and Nature Network. Children & Nature Network.2018.
Document is available in English, French and Spanish Available at http://www.natureforall.global and http://www.childrenandnature.org
Cohen, Michael J. , Well Mind, Well Earth: 97 Environmentally Sensitive Activities for Stress Management, Spirit and Self-Esteem. Continuing Education Manual. World Peace University. 1993

McMullan, Geoffrey. Exploring Bird Language: A collection of Nature Games for Children and Adults of all ages and backgrounds. Pathfinder-UK.2014

Young, Jon. What The Robin Knows: How Birds Reveal The Secrets of the Natural World. Houghton Mifflin Harcourt, 2012
Gooley, Tristan. The Lost Art of Reading Nature's Signs: Use Outdoor Clues to Find your Way, Predict the Weather, Locate Water, Track Animals and Other Forgotten Skills, The Experiment, 2014.

Grady, Wayne. Toronto The Wild: Field Notes Of An Urban Naturalist, Macfarlane Walter & Ross, 1995.
Monger, Karen. Adventures in Edible Plant Foraging: Finding, Identifying, Harvesting and Preparing Native and Invasive Wild Plants, Skyhorse Publishing, 2015.
Louv, Richard. Lost Child In The Woods: Saving Our Children From Nature Deficit Disorder, Algonquin Books, 2008.
Smith, Karen and Schaefer, Sonya. Mason, Hours In The Outdoors: A Charlotte Mason Nature Study Handbook.
---
Websites:
The Cornell Lab of Ornithology, All About Birds: https://www.allaboutbirds.org/guide/search
Four Winds Nature Institute 
Tourism Windsor-Essex (Compilation of Local Bird information compiled from Allaboutbirds.org)