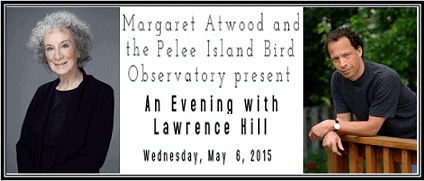 We are excited to announce that once again, Margaret Atwood will host the PIBO Windsor fundraiser, bringing as her guest Lawrence Hill.
Lawrence Hill is the author of nine books, including The Book of Negroes, an international bestseller and winner of various awards including The Commonwealth Writers' Prize and the English and French Canadian versions of CBC Radio's Canada Reads. He travelled across Canada to deliver the 2013 Massey Lectures, based on his non-fiction book Blood: The Stuff of Life (House of Anansi Press). He is finishing a new novel and co-wrote the adaptation for a six-part television miniseries of The Book of Negroes, which was filmed in South Africa and Nova Scotia and aired in early 2015 on CBC in Canada and on BET in the USA. He volunteers with Crossroads International, Book Clubs for Inmates, and with the Black Loyalist Heritage Society, and lives in Hamilton, Ontario. www.lawrencehill.com and www.facebook.com/LawrenceHillAuthor
For more information about the fundraiser, please click here to download the poster (pdf).
We look forward to this year's fundraiser, and hope that you will join us! Proceeds from the fundraiser will help PIBO conduct our migration monitoring, breeding bird, and Species at Risk research programs on Pelee Island, as well as our award-winning environmental education programs.
This year's event will be held Wednesday, May 6, 2015, at Beach Grove Golf and Country Club in Tecumseh, ON. Contact Paul Vasey at  to order tickets.