PIBO Cuba Birding Trip 2013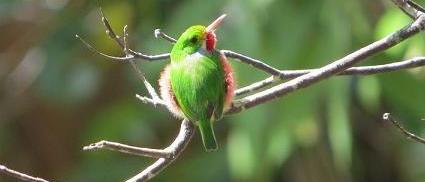 In March of this year PIBO organized the first of what we expect will become an annual birding and nature trip to Cuba. It is an intriguing and generous country, the birds are marvellouse and largely accessible. Our guide, Arturo Kirkconnell, is a curator in the Cuban National Museum of Natural History and — along with Orlando Garrido — author of the Field Guide to the Birds of Cuba.
After a night in Havana we travelled two and a half hours in a comfortable bus to Cuba's great wetland, Ciénaga de Zapata, which is a UNESCO World Heritage Site. We spent three nights there in Cabins overlooking a beach on the Bay Of Pigs. During the days we explored semi-tropical woodlands, grasslands, mangroves, salt and brackish waters in search of birds, butterflies and various other flora and fauna. In the evenings we went in search of the Stygian owl.
While all locations we visited on the trip are productive, Zapata is remarkable. At least sixteen of Cuba's endemic birds breed in the area; at last count six among them are considered globally threatened. March is by far the best time to see them because migrants are passing through and breeding Cuban birds are singing on territory.
A few notable sightings: Zapata Wren; Zapata Sparrow; Bee Hummingbird; Cuban Trogon; Gray-fronted Quail-Dove; Blue-headed Quail-Dove; Cuban Parakeet; Cuban Parrot; Cuban Pygmy owl…
Returning to Havana for one night we set out early next morning for the Sierra del Rosario Highlands. In 1984 the area was designated a Biosphere Reserve by UNESCO. Our first stop was Las Terrazas where the upland habitat provided us with a rich assortment of new species. The area is also known for its early green revolution and we had lunch in a most agreeable organic restaurant. After a night in the area, with more birding in the morning, we returned to Havana.
A few notable sightings: Cuban Solitaire (a haunting song); Giant Kingbird; Cuban Grassquit; Cuban Oriole; Western Spindalis…
Our last full day was spent exploring Havana's evocatively rich historical presence. Founded in 1519 it is one of the oldest cities established by Europeans in the so-called New World. In 1982 UNESCO designated Old Havana a World Heritage Site, and it is perfectly obvious why they did so.
_______________________________________________________________
This report was written for PIBO by Graeme Gibson, the Elder, Chair of the PIBO Board, and was included in the Spring/Summer 2013 Edition of our newsletter, The Auspice. You can read past issues of the Auspice here and subscribe to the online edition here.
The species count for the entire 2013 PIBO Cuba Birding Trip was 126, including 18 endemics. A similar trip for 2014 is in the planning process right now, with more details to come soon. If you are interested in participating in the 2014 trip, or would like more information, please email info@pibo.ca.