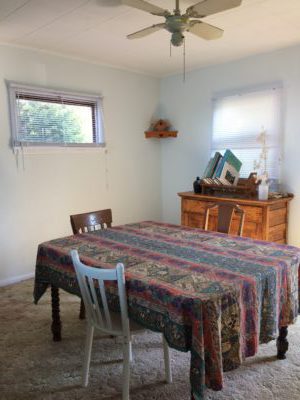 The Pelee Island Bird Observatory now offers a year-round weekly cottage rental.
In 2009, the Pelee Island Bird Observatory (PIBO) received a generous donation of a lakeside cottage and is available to self-catering groups or individuals. The Birdhouse is an attractive lakeside house that accommodates up to 8 people. The common room sports an array of windows that offer panoramic views of beautiful Lake Erie. The house has a well-equipped kitchen and dining area, three bedrooms with double beds and one with a twin bed.  There is a  bathroom complete with flush toilet, bathtub, and sink. Upgrades in 2016 include a professional grade UV water filtration system, new hot water tank, fresh coat of paint in all the rooms, an electric clothes dryer and a rebuilt flower bed in the front garden. Upgrades in 2017 include  a rebuilt flagstone pathway to the house and all new windows.
Please contact PIBO for rates and the current booking status of the birdhouse.