Fall Video-conferencing Program a Success!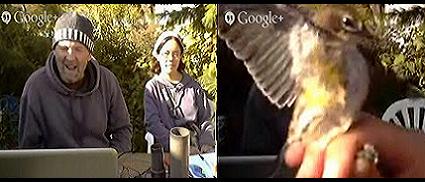 Since 2010, as part of our education mandate, PIBO has delivered in-class presentations to schools in Southern Ontario thanks to funding support from the Ontario Ministry of Natural Resource's Species at Risk Stewardship Fund and TD Friends of the Environment. Even with this generous support, however, travel costs have made it difficult to reach schools outside of the Essex County region.
In addition to our in-class presentations, we also welcome and encourage visitors to our field station at Fish Point Provincial Nature Reserve on Pelee Island. While we thoroughly enjoy hosting students at the banding station, we recognize how difficult it is to travel to Pelee Island – a trip which involves a bus ride to the dock in either Leamington or Kingsville, ON, and then a 1.5 hour ferry ride to the Island.
Faced with these unique challenges, the Pelee Island Bird Observatory has come up with a creative and exciting solution to these problems: video-conferencing! Video-conferencing with classes allows our staff to reach students beyond Essex County, as we can link-up with any class that has a computer with a webcam and an internet connection. We even use Google+ Hangouts so there is no software to download. But the most exciting aspect of video-conferencing is the level of interaction we can have with students – they can watch us band birds live, ask questions, and have a discussion with PIBO staff!
Following a successful pilot video-conference last autumn with a grade nine class at Kingsville District High School, PIBO Managing Director Graeme Gibson, the younger, and biologist Sachiko Schott were happy to link up with four different groups of students this season.
First up was Mr. Dave Kraus' grade 11 biology class at Essex District High School. Despite a few technical issues, the link-up was a success. Our second conference was with Ms. Sue Di Laudo's grade nine science class at Cardinal Carter in Leamington, which was fun and a further learning experience for us, too,  as students logged in individually via their own school-issued iPads, allowing us to host a Google "Hangout On Air". Up next was the Canadian Girls in Science (CAGIS) club at Matthews Hall in London, ON. The youngsters had all kinds of questions about birds and had the opportunity to learn about the bird banding process. And last but not least, we even video-conferenced with a group of young home-schooled students who take part in nature education programs at Ojibway Nature Centre in Windsor, ON. The young students had many thoughtful (and tough!) questions for Graeme and Sachiko, and got to see many fall migrants being banded, including a Yellow-rumped Warbler, a White-throated Sparrow, and a Golden-crowned Kinglet.
Everyone at PIBO is very excited about the potential of the video-conferencing program and we plan to continue to expand the project and look forward to meeting many more teachers and students! We can't thank the teachers who participated this year enough, and we hope to work with you again.
The expansion of this video-conferencing program was made possible through funding from the TD Friends of the Environment Foundation. We are very grateful for the support!