The Pelee Island Bird Observatory (PIBO) is a regional not-for-profit organization dedicated to the conservation of birds by conducting scientific research, avian population monitoring, and connecting people to nature. The field station and its work are done on Pelee Island, which sits in the migratory path of two major North American flyways, a premier location to study and observe hundreds of migratory species and dozens of breeding birds with limited ranges in Canada.
Assistant Field Biologist
We are looking for enthusiastic environmentalists to join our team as Assistant Field Biologist for the spring season (April 12 through July 16, 2023) or the fall season (August 1 through October 15, 2023) at our field station on Pelee Island, near Windsor, Ontario. As Assistant Field Biologist you will report to the Field Supervisor and be responsible for helping with all spring and early summer research, data management, volunteer supervision, field station logistics and maintenance, as well as assisting in the delivery of on-island education programs (as needed).
Your workload will involve up to 50 hours of fieldwork per week, including migration monitoring, bird banding, species at risk monitoring, and breeding surveys, as well as paperwork, data entry, and other duties associated with PIBO's migration monitoring program.
Specifically, your role as Assistant Field Biologist will include:
FIELDWORK DUTIES:
• daily constant-effort migration-monitoring, including daily 90 minute census
• passerine bird banding in April, May, and early June (6 hours/day for approx. 70 days)
• summer breeding bird studies (20 days)
• species-at-risk monitoring (10 days)
• marsh bird and amphibian surveys (6 days)
• additional spring and summer research activities (as required)
RECORD-KEEPING DUTIES
• Entry and proofing of research data collected during the season including PIBO's Daily Totals (DTs), bird banding records, species-a-risk data, marsh bird surveys, amphibian monitoring, etc.
• Writing bi-weekly migration summaries of daily census work, as required.
• Assist with online social media updates during the spring migration season, and contribute articles to the newsletter, as required
VOLUNTEER MANAGEMENT DUTIES
• Supervise volunteers
• Assist with volunteer training
• Ensure open and timely communication between volunteers and other staff
• Enforce field safety practices and protocols on a regular basis
OTHER DUTIES
• Assist with driving, equipment and vehicle upkeep, and staff house maintenance (includes shopping, cooking, cleaning, etc.).
Qualifications
We are looking for an experienced field birder, able to identify the majority of species found in the Great Lakes region by sight and sound. Previous bird banding experience is required. Familiarity with CMMN migration monitoring, the Great Lakes Marsh Monitoring Program, and the Breeding Bird Survey (BBS) is an asset, but not essential.
Conditions around the banding station are sometimes flooded and often muddy. Biting insects, poison ivy, cockroaches, spiders, and non-venomous snakes are common: you must be able to spend long periods standing and walking over uneven terrain. You should also be comfortable interacting with the public, easy to live with, and willing to work hard. PIBO's staff and volunteers sometimes work ten-hour days for up to 70 days in a row without a day off, in both cold, as well as hot, humid, and buggy conditions. Candidates must be legally entitled to work in Ontario. A driver's license and a clean driving record are an asset.
You will live rent-free with other staff and volunteers in the PIBO staff cottage, and transportation to the fieldwork areas is provided. Food and transportation to and from Pelee Island will be your responsibility. The island can be cold in the early spring and PIBO's staff house is not winterized. Internet and cellphone reception is limited at both the banding station and the staff house. Balancing the hard work and sometimes challenging conditions is the opportunity to study birds rarely seen elsewhere and to contribute to their survival.
SPECIFIC BACKGROUND, SKILLS, AND QUALIFICATIONS
Required
A passion for conservation, science, and birds
Experience in bird banding
Familiarity with birds of the Great Lakes region
A self-motivated team player, with strong interpersonal, organizational, and communication skills
Able to adapt to shifting conditions and priorities to meet deadlines and goals
Reliable, organized, and detail-oriented
Able to act with discretion regarding confidential matters
Valid driver's license and clean driving record (vehicle provided)
Desired
Experience in migration monitoring and species surveys
Experience conducting scientific analysis and writing reports
Experience with computer software
Experience with identifying and mitigating workplace barriers to diversity, equity, and inclusion or willingness to learn about best practices
This role has the following physical or scheduling requirements:
The ability to traverse soft, potentially risky mud and to endure varying climactic conditions (cold mornings, hot days,biting insects, etc).
The ability to tolerate long field days in remote locations (sometimes exceeding 8 hours)
Early mornings and occasional weekends
Use a computer and office software, applications, and equipment on a regular basis, and sometimes in the field. The position requires regular and accurate communication with others using telephone and video technology, and ability to interact effectively with digital and printed materials.
Reasonable accommodations will be made to allow individuals to perform the essential functions of this position.
Our Commitment to Diversity
PIBO actively engages individuals from all backgrounds. We are committed to embracing diversity within our organization because we firmly believe that diverse employee teams help us to achieve our best organizational outcomes and provide the most effective support to the communities we serve. We are deeply dedicated to creating and maintaining an inclusive, equitable and supportive work environment. PIBO believes in growth and supporting our employees as best we can so they can become their best selves in and outside of work. We believe that a healthy work environment means building an inclusive culture where people can thrive together and feel supported and empowered.
We strongly encourage people of all backgrounds and identities, including but not limited to people of color, lesbian, gay, bisexual, queer, transgender and non-binary people, veterans, parents, and individuals with disabilities to apply. PIBO is an equal opportunity employer and welcomes everyone to our team. If you need reasonable accommodation at any point in the application or interview process, please let us know.
Research has shown that women and people from marginalized communities apply to roles when they meet 100% of the job requirements, whereas people without marginalized identities apply if they meet an average of 60% of the requirements. If you think that your skills are transferable and can add value to this role, please apply so that we can determine whether it's a good fit.
In your cover letter, please note which pronouns you use (for example – she/her/hers, he/him/his, they/them/theirs, etc.).
Compensation
Total compensation is up to $3808/month (CDN), minus deductions, depending on experience.
To Apply
Please send your resume, together with a cover letter describing your experience and interest in working with PIBO, to Suzanne Friemann, executive director of PIBO, at: .
If you are short-listed for the position, we will ask for the contact information of three references.
Application deadlines:
March 1 2023 (Spring session), and July 1, 2023 (Fall session)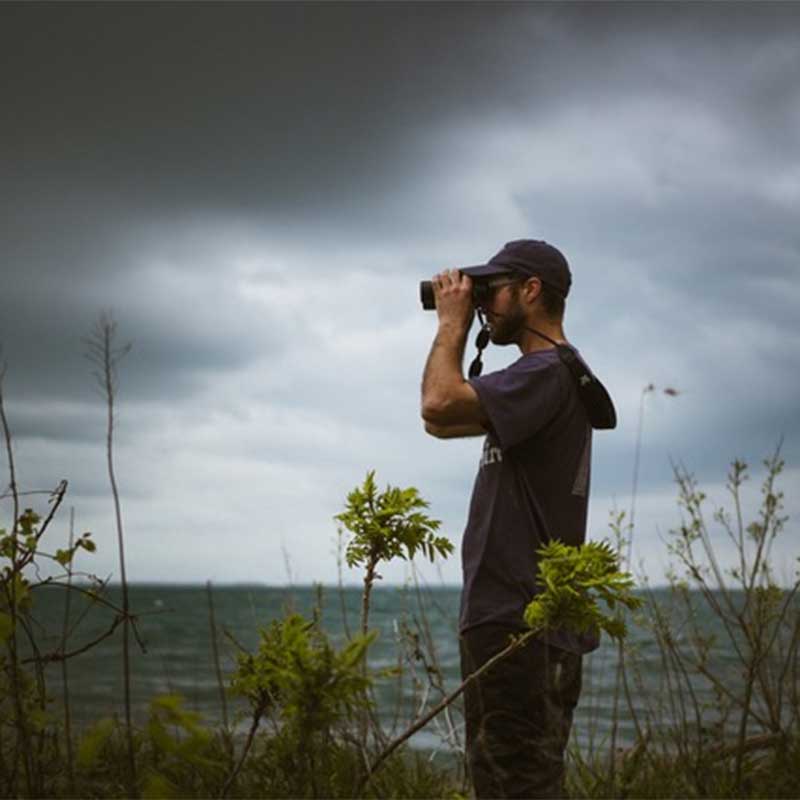 Evan Sinclair, Assistant Field Biologist, Spring 2022.
"Migration monitoring in May was a blast as always. Slogging through flooded trails, counting and banding colorful migrant songbirds, experiencing intense reverse migration at the tip of Fish Point – it was all part of the fun. One of the most memorable experiences was the astonishing abundance of White-eyed Vireos in May. I particularly enjoyed atlassing during the breeding season, and it was rewarding to contribute to such an important conservation project."