Choose-your-own Meals! No Platter Passing! Eat Dessert First!
Springsong Guest Authors and Guest Birders and friends have opened their recipe boxes to help you prepare a delicious meal at home to eat during our Virtual Gala. Instead of cooking from a set menu, we've left the choice up to you. Select what most appeals to you from the Drinks Tray, the Bread Basket, Starters, Soups & Salads and Mains, where we offer Chicken, Fish, and Vegetarian or Vegan options. And don't forget Dessert! In fact, you can skip the mains and make a meal of starters and dessert—or soup and bread. At this Gala dinner, the choice is entirely yours.
We've kept the recipes simple to accommodate reduced pandemic pantries, and the servings small to ensure we keep our social distance. The ingredients favour a spring harvest—spinach, peas, asparagus, rhubarb, mint, sorrel, and thyme. There are dishes for beginner cooks and risk-takers, for those who like to cook ahead and for last-minute chefs, for gourmands who pine for retro comfort food and gourmets watching their waists.
Click on the images to read the printable recipes. As you browse, you'll notice bird names peeking through the prose where you least expect. How many species can you find? The words bird, chicken, hen don't count, but oriole, warblers, emu do. Send your list to with the subject line Springsong BirdFeed Contest. We'll throw all correct answers in a nest and draw three names to win memorable gala prizes!!
---
Drinks Tray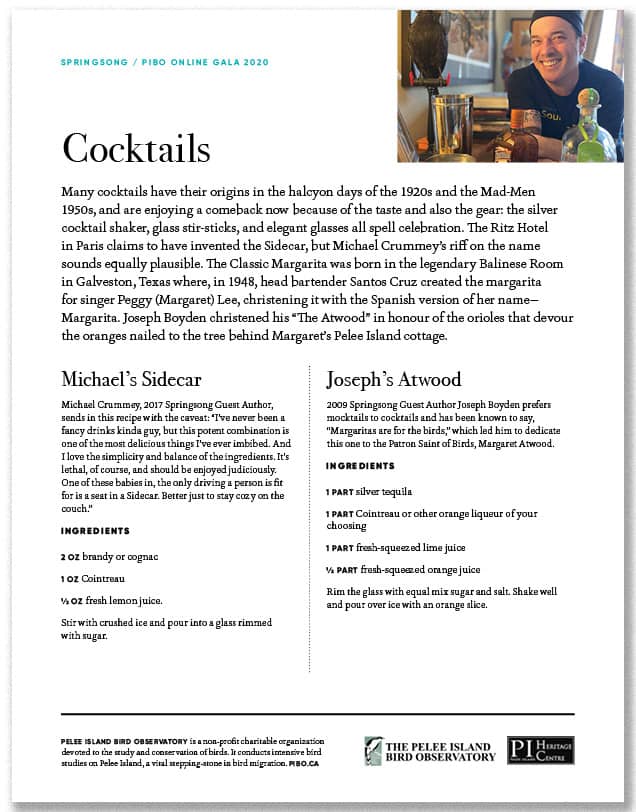 Cocktails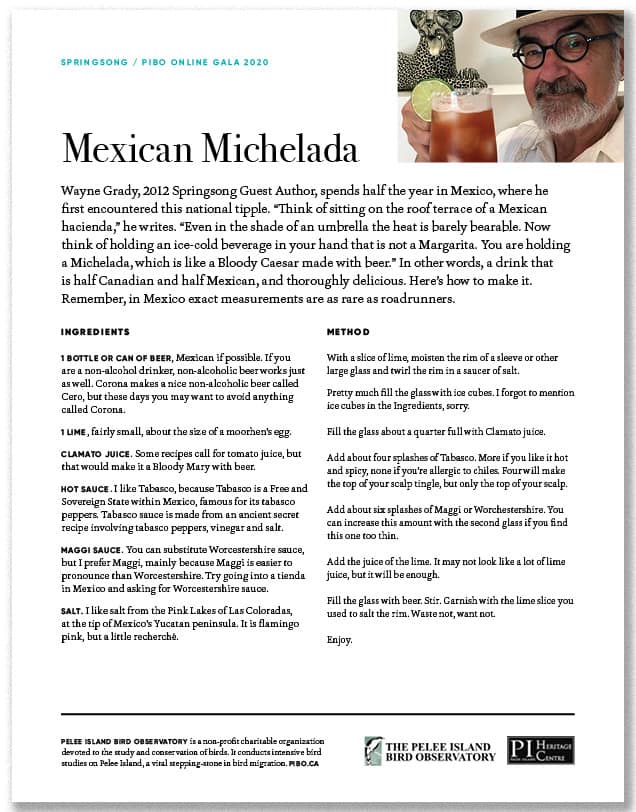 Wayne Grady's Michelada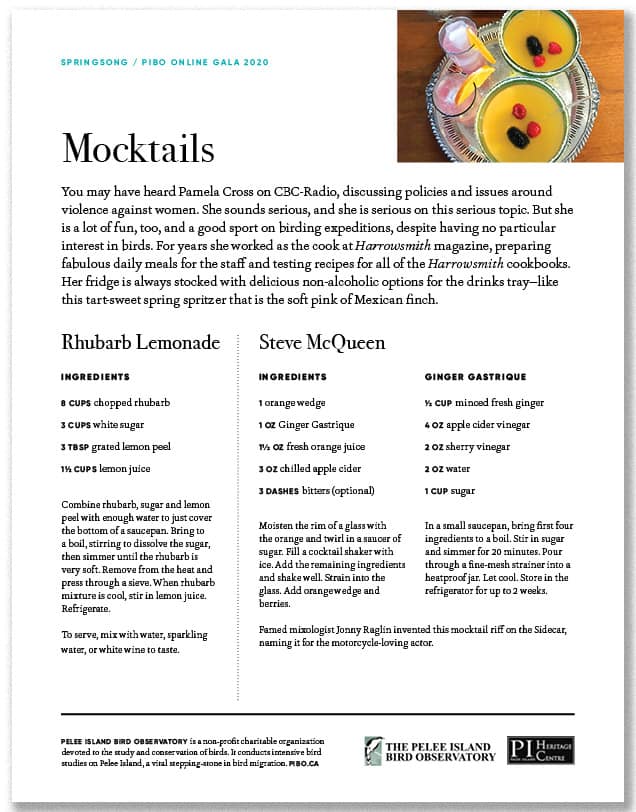 Mocktails
---
Bread Basket
Merilyn Simonds' No-Knead Crusty Loaf (Vegan)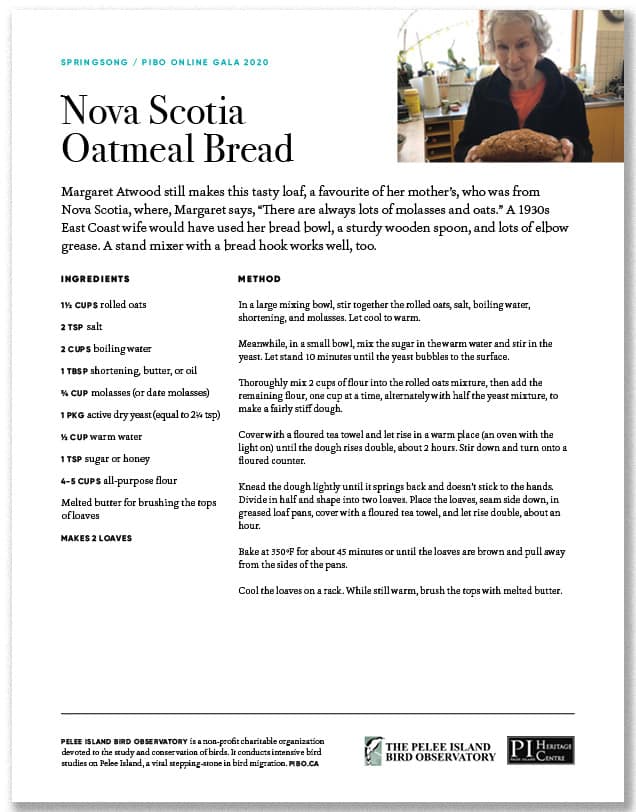 Margaret Atwood's Hearty Molasses Oatmeal Bread (Vegan)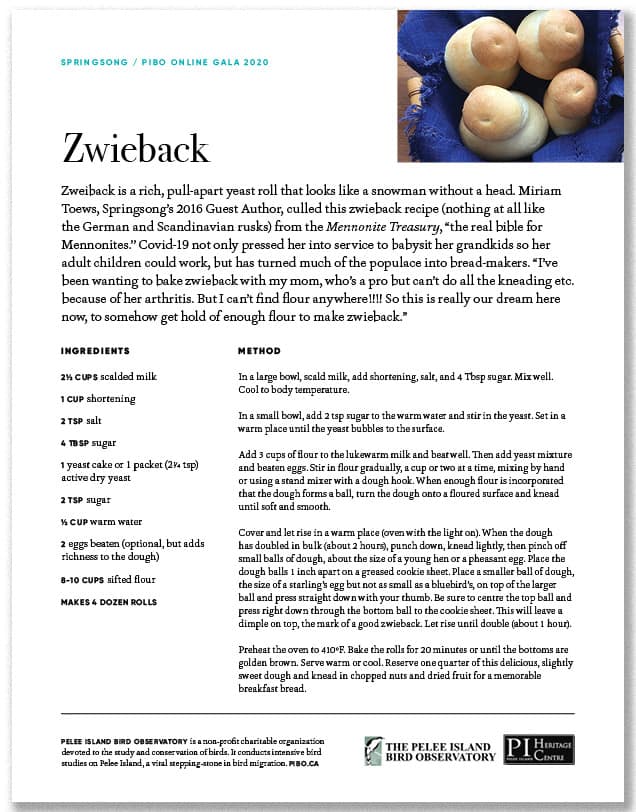 Miriam Toews' Zweibach
---
Appetizers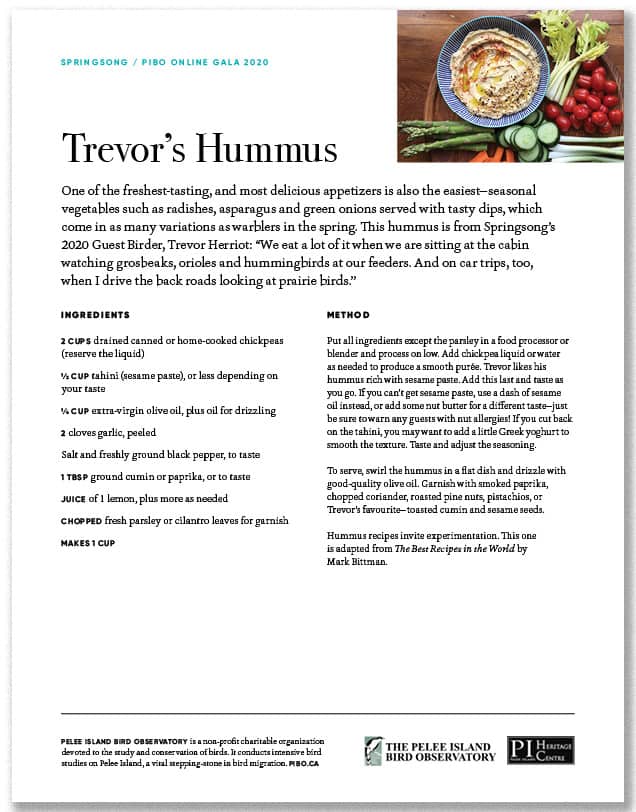 Trevor Herriot's Hummus (Vegan)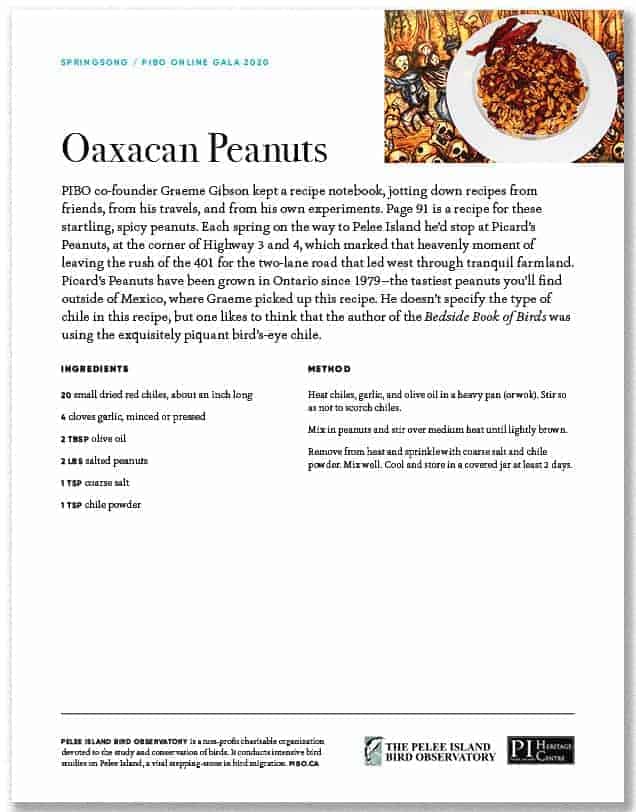 Graeme Gibson's Oaxacan Spicy Peanuts (Vegan)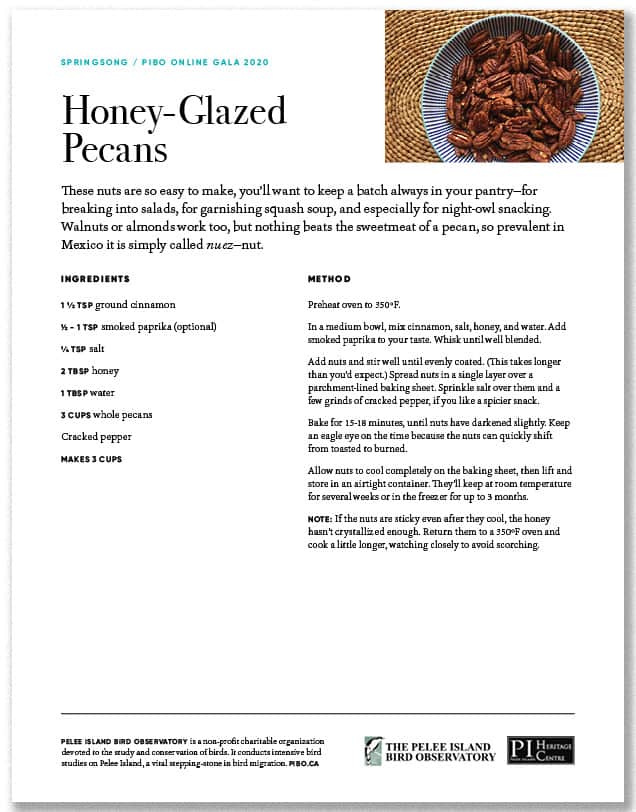 Easy Honey-Glazed Pecans (Vegan)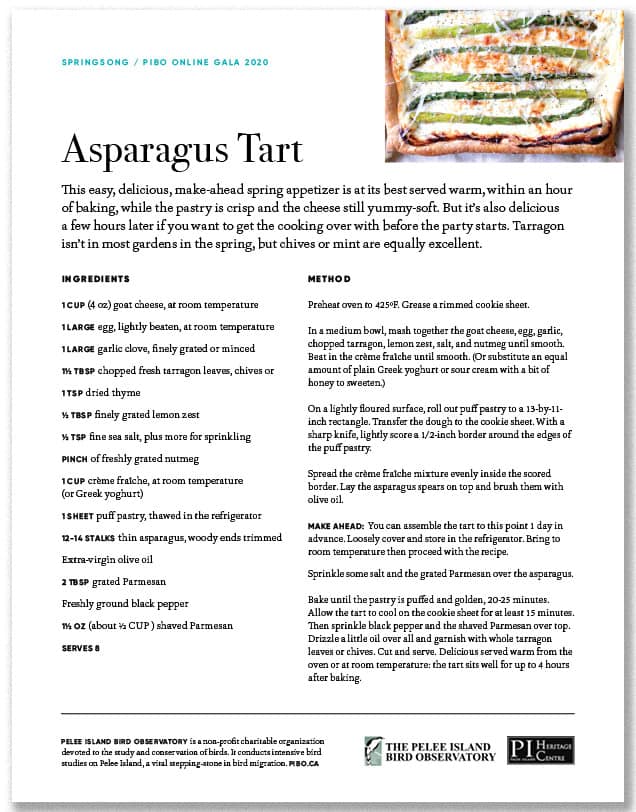 Asparagus Goat CheeseTart (Vegetarian)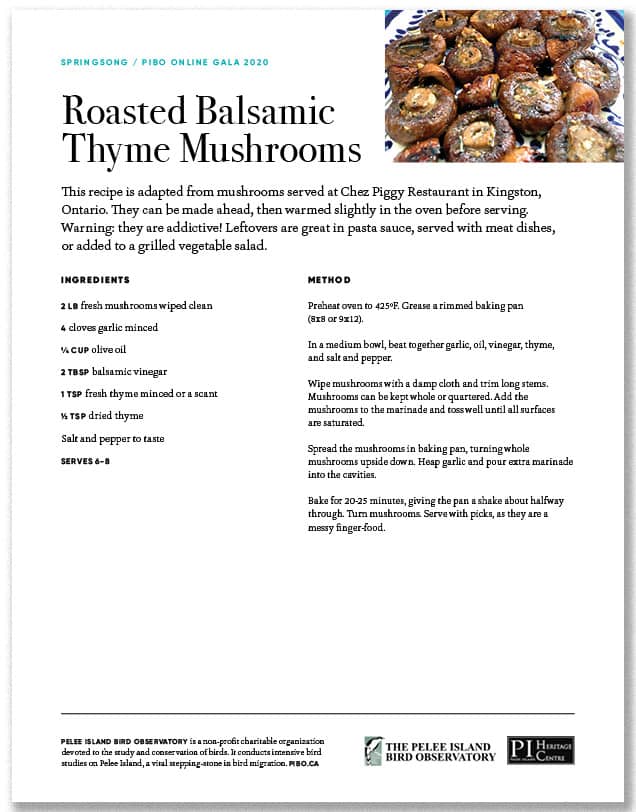 Roasted Balsamic Thyme Mushrooms (Vegan)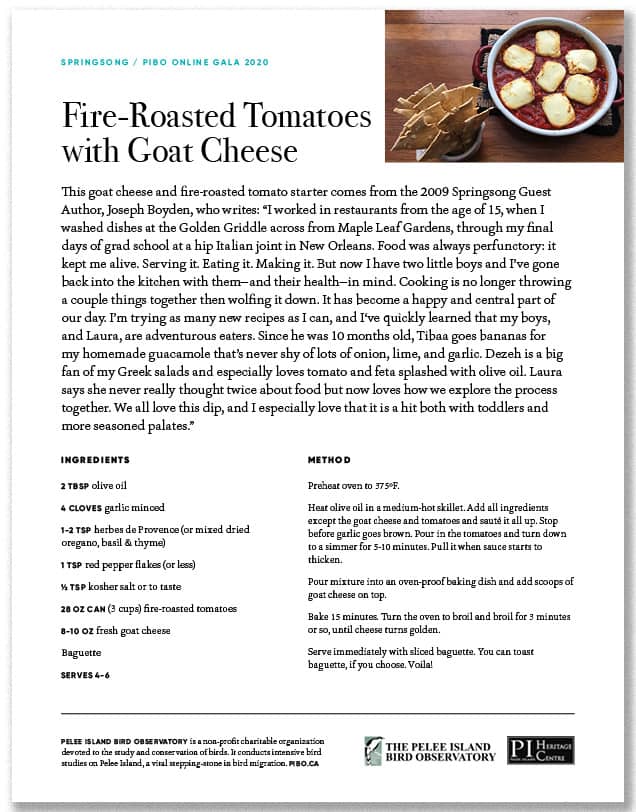 Joseph Boyden's Baked Goat Cheese and Fire-roasted Tomato (Vegetarian)
---
Soup & Salad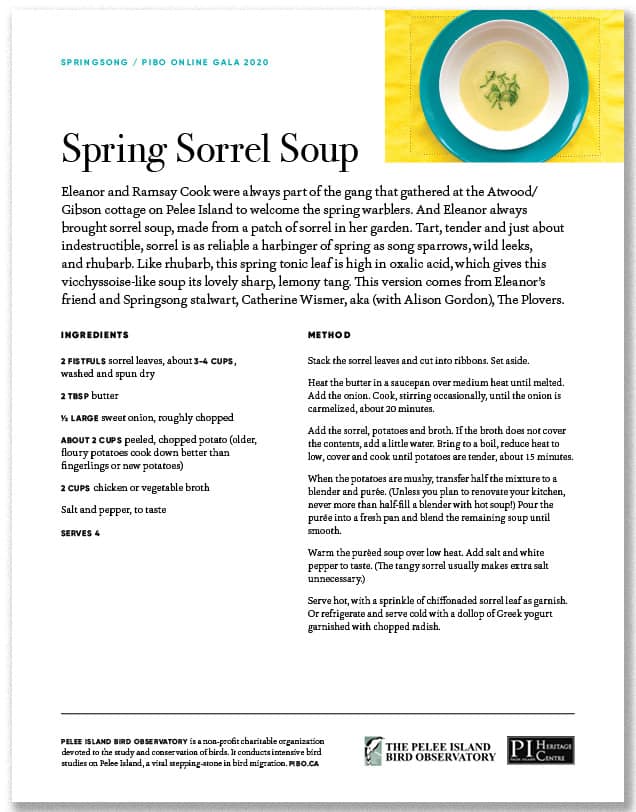 Eleanor Cook's Spring Sorrel Soup (Vegetarian)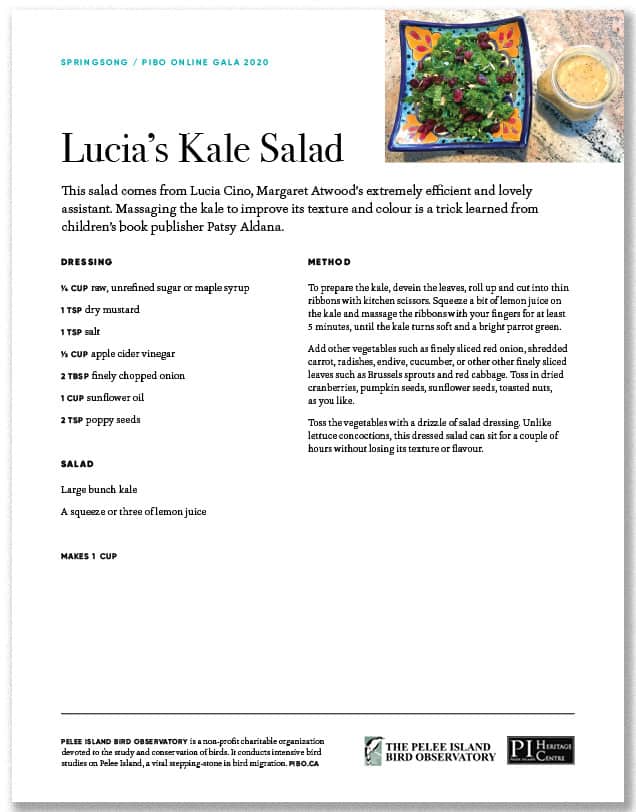 Lucia Cino's Kale Salad (Vegan)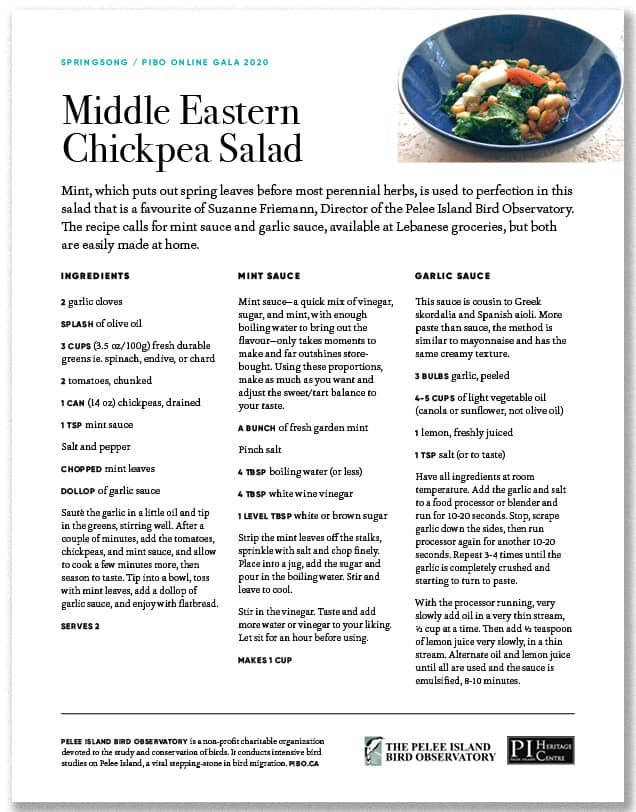 Suzanne Friemann's Chickpea Salad (Vegan)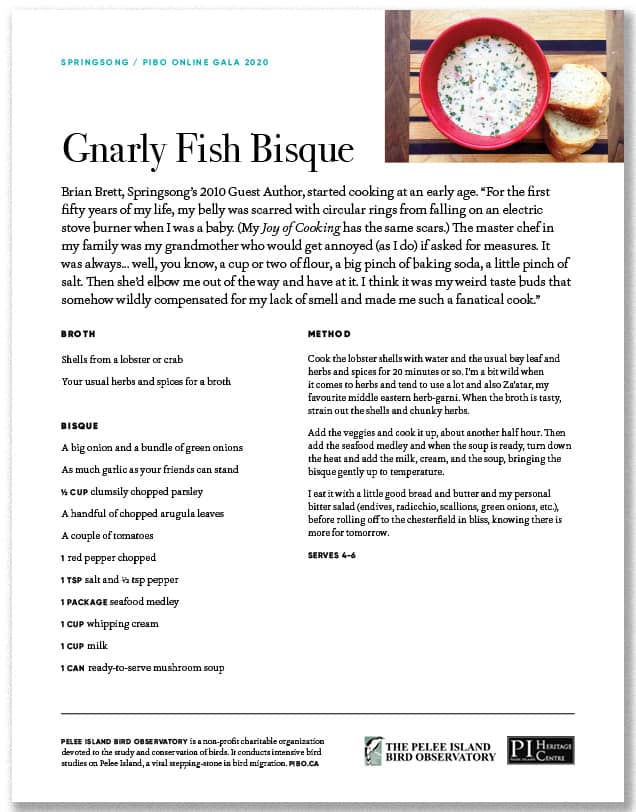 Brian Brett's Gnarly Fish Bisque
---
Main Dishes
Chicken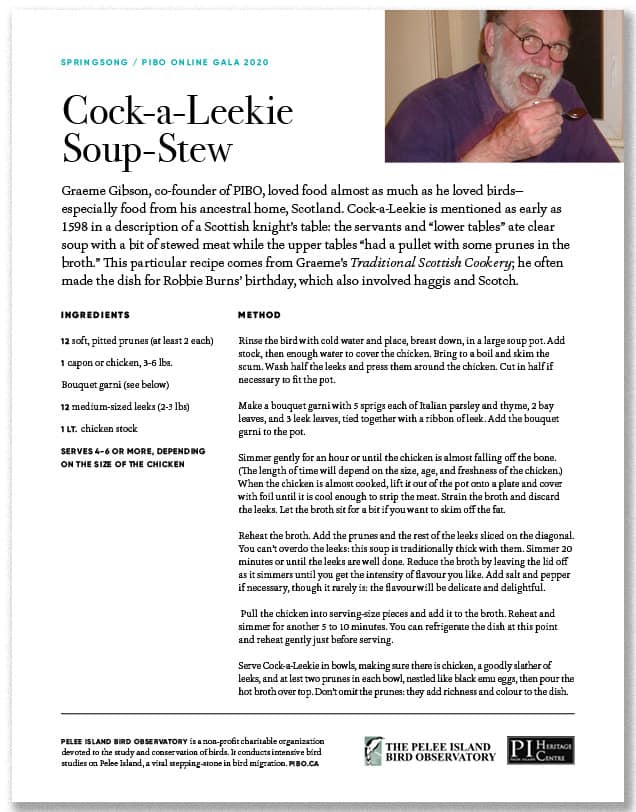 Graeme Gibson's Scottish Cock-a-Leekie Soup-Stew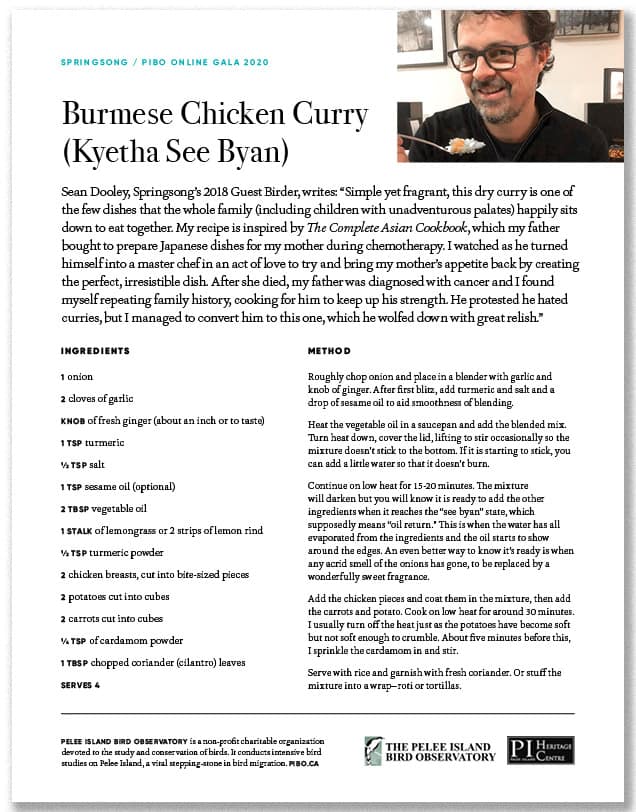 Sean Dooley's Burmese Curried Chicken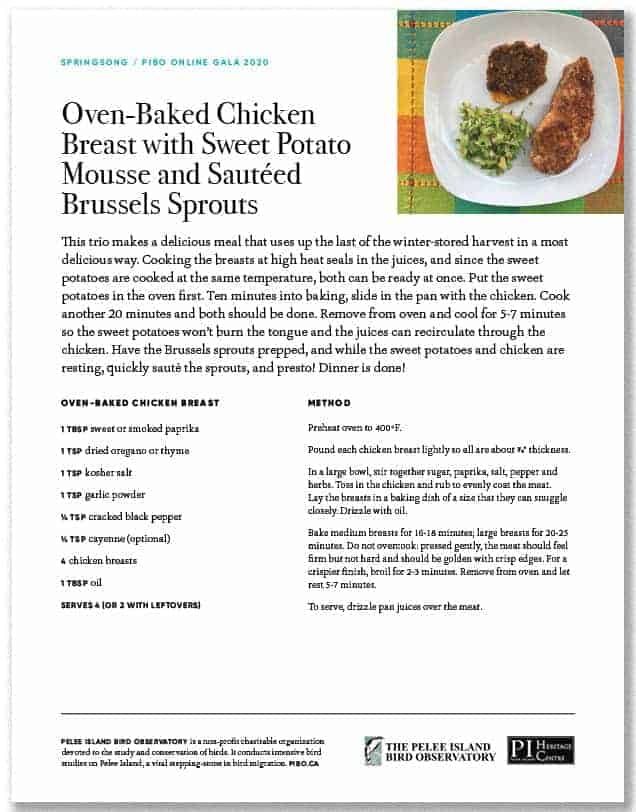 Spring Chicken, Birder Murder Sweet Potatoes, & Sautéed Brussels Sprouts
Fish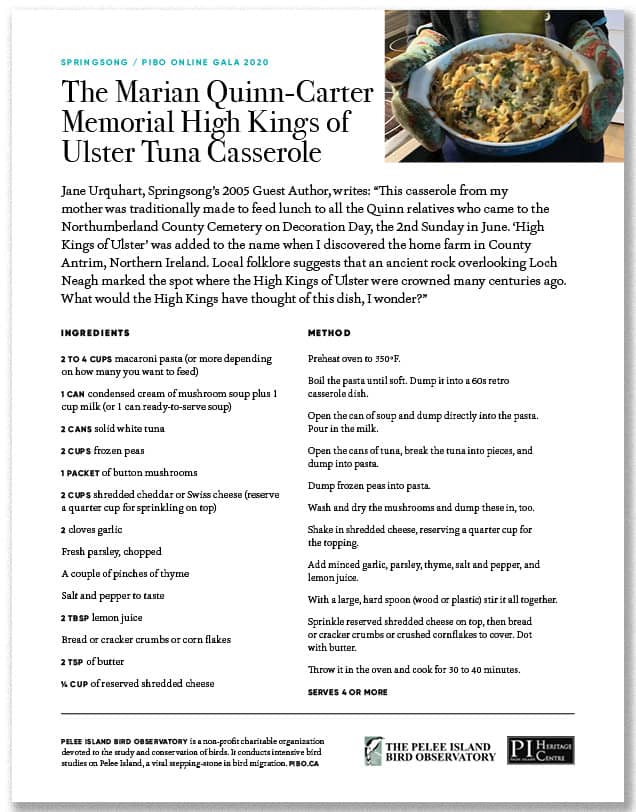 Jane Urquhart's Kings of Ulster Tuna Casserole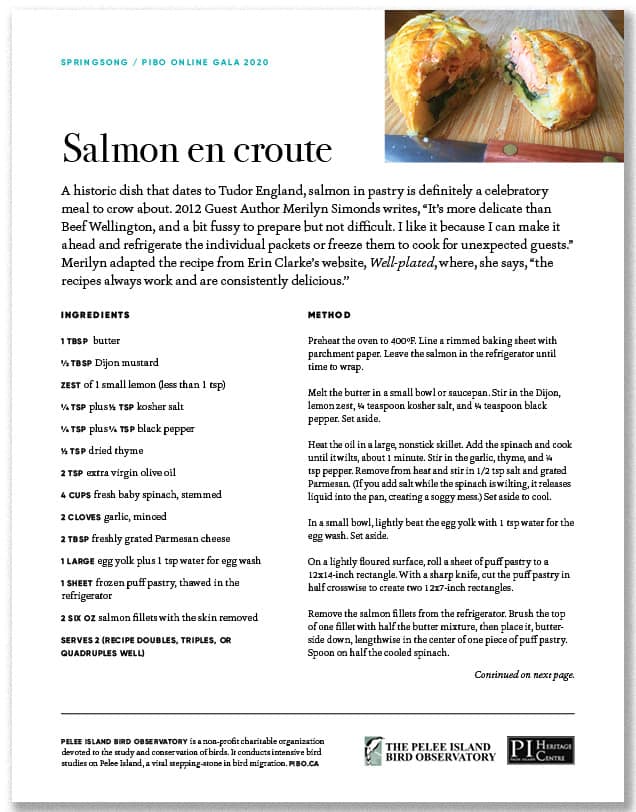 Salmon en croute with grilled asparagus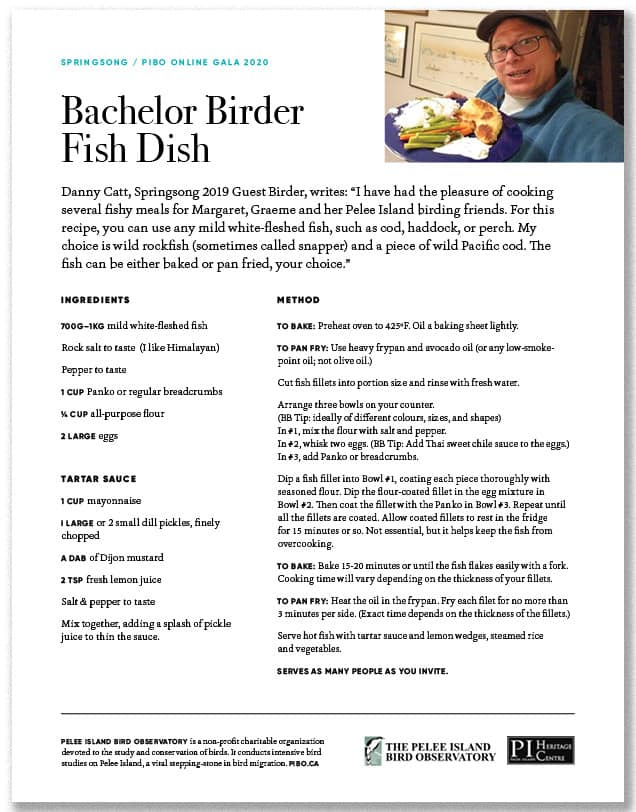 Danny Catt's Bachelor Birder Fish Dish
Vegetarian / Vegan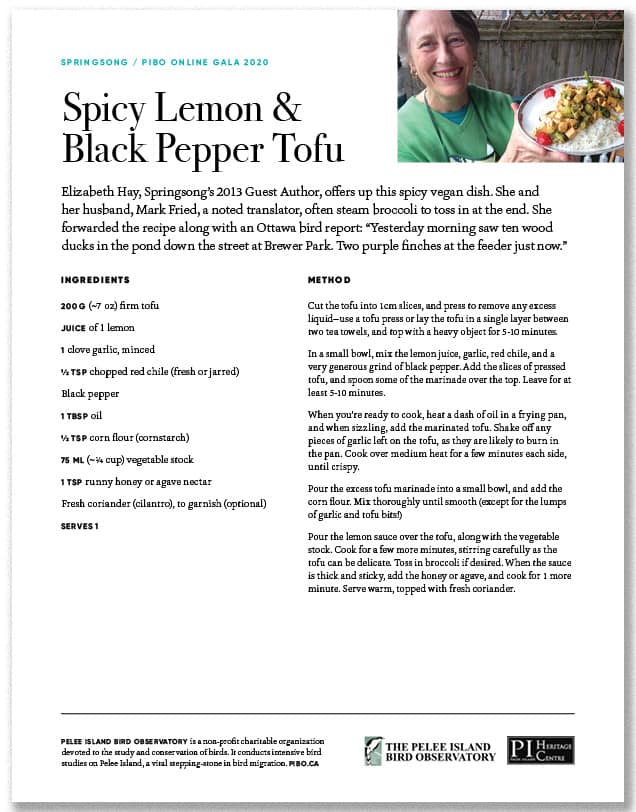 Elizabeth Hay's Spicy Lemon Pepper Tofu with Broccoli (Vegan)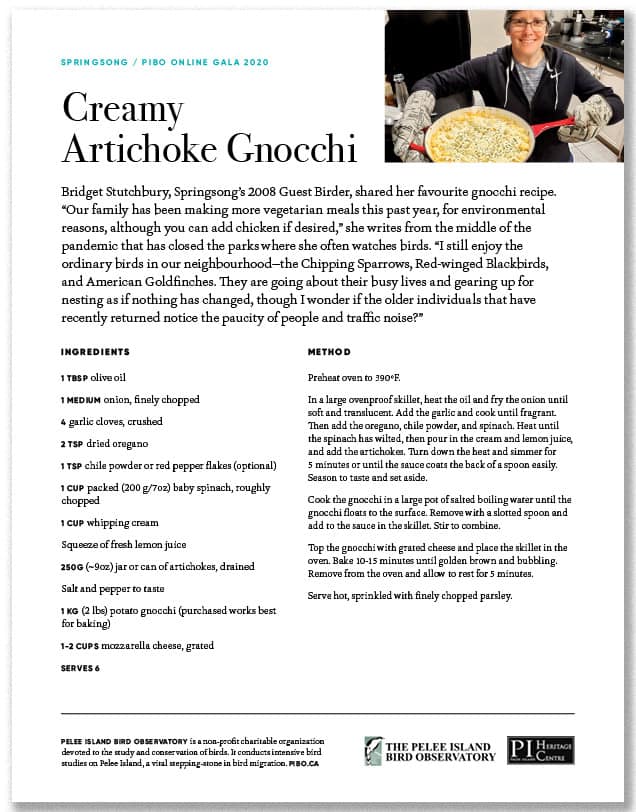 Bridget Stutchbury's Creaxnmy Artichoke Gnocci (Vegetarian)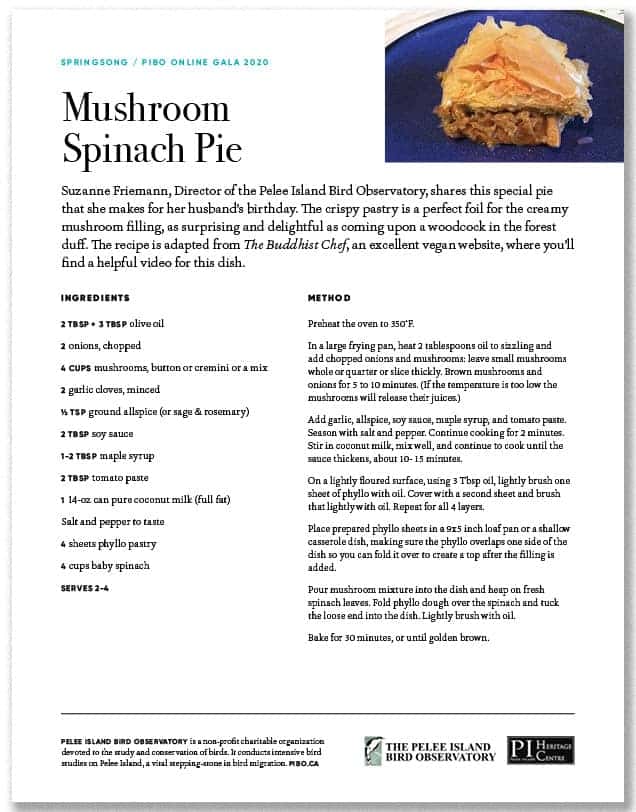 Suzanne Friemann's Spinach Mushroom Pie (Vegan)
---
Desserts
Lorna Crozier's Ginger Snaps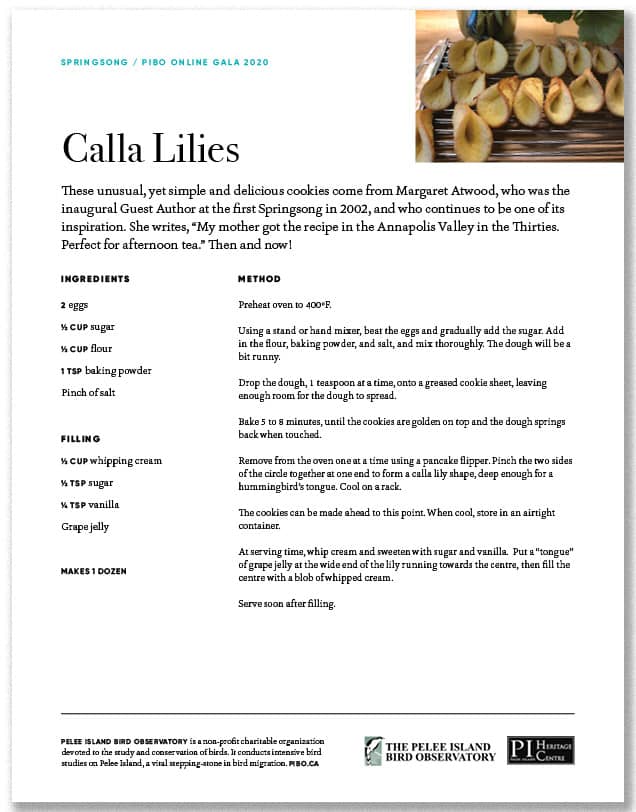 Margaret Atwood's Calla Lilies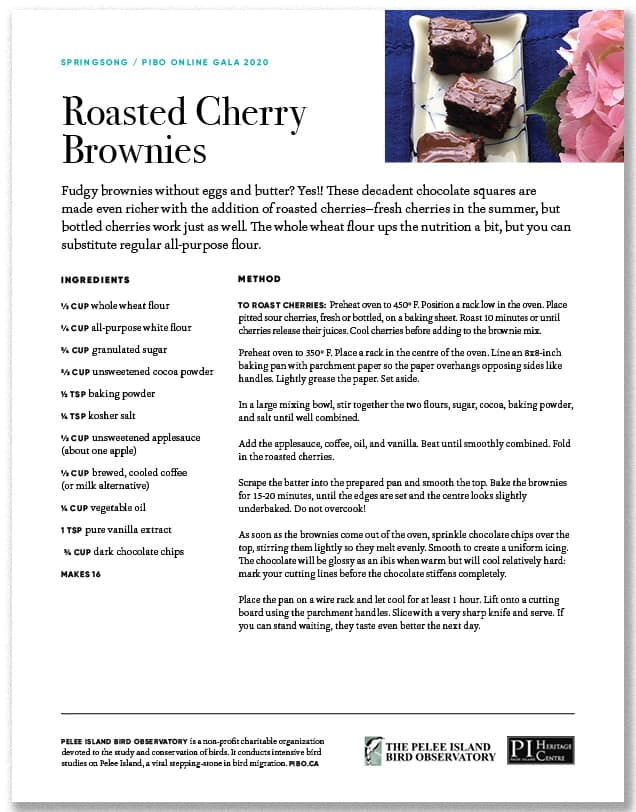 Roasted Cherry Brownies (Vegan)
Merilyn Simonds' Tears of Angels lava cakes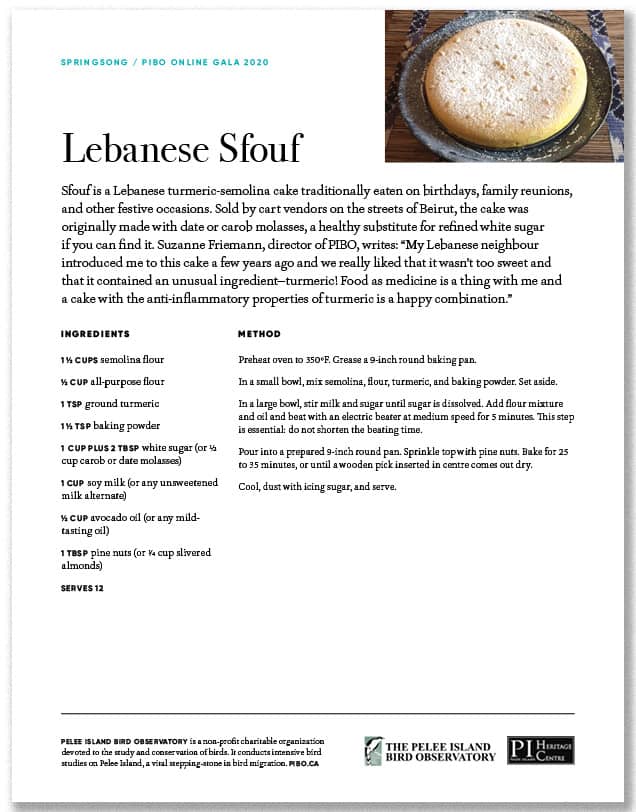 Suzanne Friemann's Lebanese Turmeric Sfouf Cake (Vegan)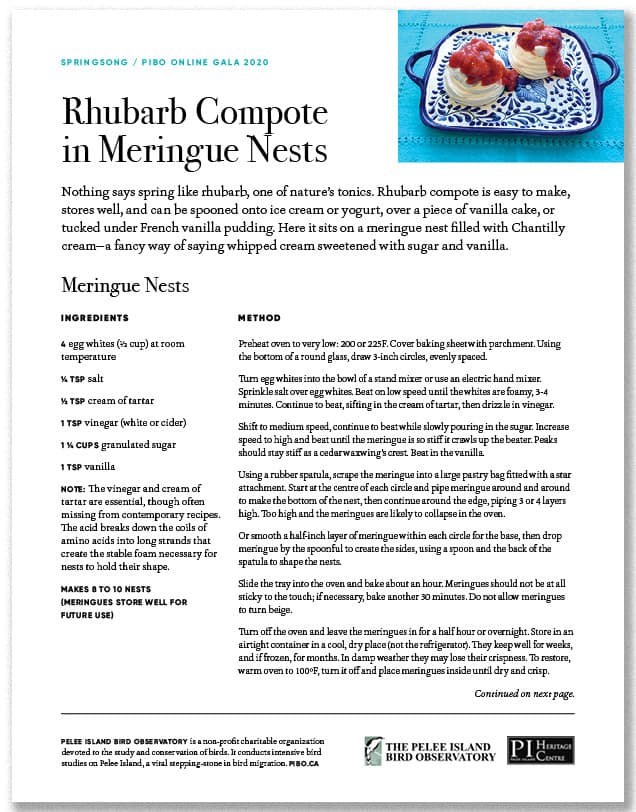 Rhubarb Compote in Meringue Nests with Chantilly Cream